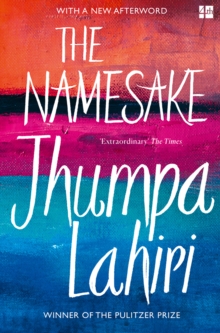 Description
`The Namesake' is the story of a boy brought up Indian in America.'When her grandmother learned of Ashima's pregnancy, she was particularly thrilled at the prospect of naming the family's first sahib. And so Ashima and Ashoke have agreed to put off the decision of what to name the baby until a letter comes...'For now, the label on his hospital cot reads simply BABY BOY GANGULI.
But as time passes and still no letter arrives from India, American bureaucracy takes over and demands that 'baby boy Ganguli' be given a name.
In a panic, his father decides to nickname him 'Gogol' - after his favourite writer.Brought up as an Indian in suburban America, Gogol Ganguli soon finds himself itching to cast off his awkward name, just as he longs to leave behind the inherited values of his Bengali parents. And so he sets off on his own path through life, a path strewn with conflicting loyalties, love and loss...Spanning three decades and crossing continents, Jhumpa Lahiri's much-anticipated first novel is a triumph of humane story-telling.
Elegant, subtle and moving, `The Namesake' is for everyone who loved the clarity, sympathy and grace of Lahiri's Pulitzer Prize-winning debut story collection, `Interpreter of Maladies'.
Information
Format: Paperback
Pages: 304 pages
Publisher: HarperCollins Publishers
Publication Date: 01/07/2004
ISBN: 9780006551805
Other Formats
EPUB from £4.99
Paperback from £6.59
Free Home Delivery
on all orders
Pick up orders
from local bookshops
Reviews
Showing 1 - 5 of 9 reviews.
Previous | Next
Review by stipe168
16/06/2015
yawn. ok so i relate with being an american-born "indian", but the characters, writing, and everything else were all boring. i kept waiting for something to happen, and guess what! nothing ever did! should be renamed the sexcapades of gogol.
Review by these_fragments
16/06/2015
read like an over-long short story
Review by rayski
16/06/2015
– Follows an Indian family from Calcutta to Boston and New York, showing how their lives molded to American life but yet still had ties to their roots. Some lessons about life, how time moves and people change and grow.
Review by heidijane
16/06/2015
The newly married Ganguli couple move from India to America, and name their first baby boy "Gogol" on a whim, after the father's favourite author while they wait for the "good name" to come in a letter from India which never arrives. The little boy and man struggles to come to terms with the weight of the name as he grows up in late twentieth century America.I found this book, about the clash of cultures between Bengali and American very funny, very entertaining and very moving. As a German-born half British girl now living in the UK, I could relate to some of the identity crises, although obviously the cultures from one European culture to another are not as different as cross-continental cultures.This book was very easy to read, but pulled you along in the lifestory as Gogol Ganguli grows up, moves away and gets married. The observations on family life were spot-on, and I would certainly recommend this book. It has inspired me to searchout some of this author's other books as well.
Review by LibrarysCat
16/06/2015
I usually love multicultural books and while I liked this one, I did not love it. I did think it was well written and allowed the reader into the lives and difficulties of living in a new country.