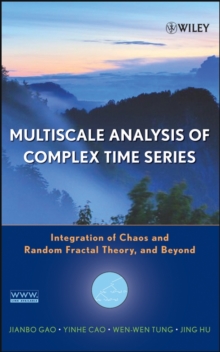 Multiscale Analysis of Complex Time Series : Integration of Chaos and Random Fractal Theory, and Beyond
Hardback
Description
The only integrative approach to chaos and random fractal theory Chaos and random fractal theory are two of the most important theories developed for data analysis.
Until now, there has been no single book that encompasses all of the basic concepts necessary for researchers to fully understand the ever-expanding literature and apply novel methods to effectively solve their signal processing problems.
Multiscale Analysis of Complex Time Series fills this pressing need by presenting chaos and random fractal theory in a unified manner.
Adopting a data-driven approach, the book covers:* DNA sequence analysis* EEG analysis* Heart rate variability analysis* Neural information processing* Network traffic modeling* Economic time series analysis* And more Additionally, the book illustrates almost every concept presented through applications and a dedicated Web site is available with source codes written in various languages, including Java, Fortran, C, and MATLAB, together with some simulated and experimental data. The only modern treatment of signal processing with chaos and random fractals unified, this is an essential book for researchers and graduate students in electrical engineering, computer science, bioengineering, and many other fields.
Information
Format: Hardback
Pages: 368 pages
Publisher: John Wiley & Sons Inc
Publication Date: 29/08/2007
ISBN: 9780471654704