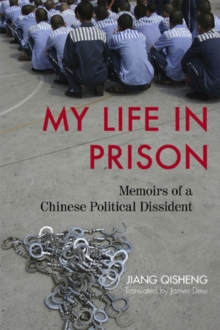 My Life in Prison : Memoirs of a Chinese Political Dissident
Hardback
Description
In 1999, the tenth anniversary of the Tiananmen Square massacre, leading dissident Jiang Qisheng was given a four-year sentence for inviting the Chinese people to light candles to honor the victims.
Drawn with indignant intensity from Jiang's time in prison, his memoirs offer compelling observations of two of the three modern, "civilized" Beijing jails in which he was held.
Along with intriguing vignettes of his fellow prisoners, Jiang describes both brutally dehumanizing conditions and rare moments of unexpected kindness.
Prisoners, used as slave labor, become "skinned" through malnutrition and exhaustion, while facing new depths of mental degradation.
Throughout, however, Jiang retained his dignity, detached and perceptive intelligence, and concern for his fellow sufferers, guards included.
Writing in his signature light and ironic style, Jiang's stories of prisoners, who come from the most primitive and impoverished layer of Chinese society, are related with vividness, insight, humor, and compassion.
Dismayed by their fatalistic docility, the author asks, "Where lies China's hope?
Can democracy ever take root in China?" The answers, surely, lie in the voices of those, like Jiang, who dare to speak out.
Information
Format: Hardback
Pages: 240 pages
Publisher: Rowman & Littlefield
Publication Date: 16/02/2012
Category: Memoirs
ISBN: 9781442212220
Free Home Delivery
on all orders
Pick up orders
from local bookshops