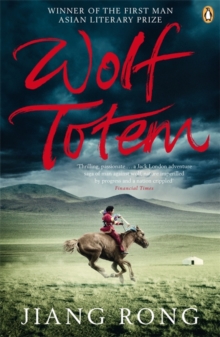 Description
Beijing intellectual Chen Zhen volunteers to live in a remote settlement on the border of Inner and Outer Mongolia, where he discovers life of apparent idyllic simplicity amongst the nomads and the wild wolves who roam the plains.
But when members of the People's Republic swarm in from the cities to bring modernity and productivity to the grasslands, the peace of Chen's solitary existence is shattered, and the delicate balance between humans and wolves is disrupted.
Only time will tell whether the grasslands' environment and culture will ever recover...Wolf Totem has been a sensation ever since it shot to the top of the Chinese bestseller charts in 2004.
A beautiful and moving portrayal of a land and culture that no longer exists, it is also a powerful portrait of modern China and a fascinating insight into the country's own view of itself, its history and its people.
Information
Format: Paperback
Pages: 544 pages
Publisher: Penguin Books Ltd
Publication Date: 01/03/2009
ISBN: 9780141027876
Other Formats
Electronic book text from £12.39
EPUB from £7.99
Free Home Delivery
on all orders
Pick up orders
from local bookshops
Reviews
Showing 1 - 1 of 1 reviews.
Review by AHS-Wolfy
27/08/2015
Chen Zhen is a Chinese student, volunteers to spend some time in the countryside at the beginning of the Cultural Revolution. Sent to the grasslands of Inner Mongolia to live and work among the nomadic people whose way of life hasn't changed in centuries. Taken under the wing of Bilgee, a tribal elder, Chen learns of a natural order of balance that has successfully provided for the existence of these people which is now under threat from the new way of doing things that the Chinese have brought with them. The intended destruction of the wolves, the largest predator in the region could have devastating effects on the ecology. Who is it that keeps the gazelle's from stopping in one place until that area of grass has either been consumed or trampled into oblivion so there will be none left for the Mongols own herds of sheep, cattle and horses? Who keeps the marmot and rabbit population in check so that their burrows won't proliferate across the land causing untold devastation? Chen's fascination with wolves grows with the more he sees and learns of these creatures and formulates a plan that may have dire consequences. He wants to get hold of a cub and raise it so that he can study it at close quarters. Raising a natural predator within a camp surrounded by livestock, what could possibly go wrong?This is a semi-autobiographical novel based on the author's own experiences of the time. It explores the socio-political expansionism of the Chinese at the expense of their neighbours as well as providing a very strong ecological message where removing one part of a delicately balanced ecosystem could spell disaster that may be impossible to recover from. It's not a subtle book and does bang you over the head with its message at times. Its also not an easy book to read, I personally couldn't just sit and read large chunks of this novel reading just one or two chapters at a time before having to set it down. It's not that it isn't a fascinating tale, it is, but the narrative doesn't flow and I'm not sure whether that's the fault of the author or the translator or possibly a combination of both. What most appeals about this book though is the way in which the grasslands existence is brought to life for the reader. It's quite an insight into an often brutal reality. An epilogue chapter, <spoiler>where Chen Zhen returns to the grasslands some thirty years later, is quite damning on what has happened in those intervening years</spoiler>.