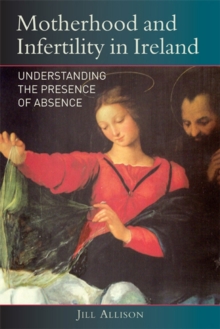 Motherhood and Infertility in Ireland
Hardback
Description
This book explores the imagined and instrumental significance of motherhood, fertility and family in social and political life in contemporary Ireland. In the climate of change shaped in part by Ireland's economic and political place in Europe, values, norms and ideals are challenged and re-defined as people navigate new social terrain for many institutions, including the family. Infertility stories show us how the once seamless connection between marriage, motherhood, sex and procreation is contested.
Through the stories of women and men facing infertility, the book brings to life the forces that shape the idea of motherhood in Ireland and the way many women see themselves, not as victims of circumstance, but as agents and beneficiaries of changing social values and expectations.
The book also examines how religious, medical and state institutions employ the meanings of "nature" and science in procreative endeavours in an effort to be the dominant voice in a conversation about an ongoing pronatalist politics. The use of reproductive technologies is discussed in relation to the historical and contemporary debates about reproductive choice. The dilemmas people face when using assisted reproduction technologies also highlight the complexity and contingency of the local morality in which reproductive politics operates in Ireland.
The book makes an important contribution to the story of change in Ireland as it represents the current cultural context in which people are making decisions about family building.
It also contributes to the feminist literature on motherhood and reproductive choice in contemporary Ireland.
Free Home Delivery
on all orders
Pick up orders
from local bookshops