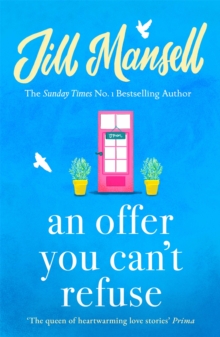 An Offer You Can't Refuse
Paperback
Description
Jill Mansell's bestselling AN OFFER YOU CAN'T REFUSE is perfect reading for fans of Cathy Kelly and Lucy Diamond.
Reviewers love Jill's novels: 'Funny and heartwarming' Bella Lola has no intention of accepting when her boyfriend Dougie's snobbish mother offers her GBP10,000 to break up with him.
Then she discovers a secret that makes her think again.
Dougie would probably have broken up with her in the long run, and this way she can help one of the people she loves most in the world. Ten years later, though, when Lola meets Dougie again, her feelings for him are as strong as ever.
But she broke Dougie's heart and he's about to discover that she was paid to do it.
She can never tell him the truth, so can she get him back?
Well, Lola's very attractive and very persuasive. But even she's got her work cut out this time...
Information
Format: Paperback
Pages: 416 pages
Publisher: Headline Publishing Group
Publication Date: 26/06/2008
ISBN: 9780755328161
Free Home Delivery
on all orders
Pick up orders
from local bookshops
Reviews
Showing 1 - 3 of 3 reviews.
Review by gogglemiss
16/06/2015
Hmm. I'm not really a great fan of chick lit, but, this storyline appealed to me. Very light reading, very funny in places, in others, not. A bit too lightweight for me
Review by sagustocox
16/06/2015
An Offer You Can't Refuse by Jill Mansell is witty, charming, engaging, and Chicklit to the max.For a reviewer this was a treat to find in a book, this is definitely how many of us feel about books and reading, and reading these lines instantly cemented my attention to this book.Lola is a young girl in love with a boy, Dougie, whose family is wealthy and whose mother hates her guts. His mother makes her an offer that she can't refuse, so she takes it and says goodbye to the love of her life in a "Dear John" letter. Fast-forward to the present day and we find Lola has grown up physically, but still wears the same teenage, low-cut clothes and finds herself being mistaken for a prostitute when she walks into London bookstore after living in Majorca for about a decade. Eventually, Lola becomes more grounded and is the bookshop manager, but just as she thinks her life is stabilizing and in a good place, things get all topsy-turvy again.This novel starts off in Lola's past, but readers may find that more background is necessary, particularly where her relationship with Dougie is concerned. The only drawback of this novel, which really isn't one, is that Lola's story is pushed to the sidelines quite a bit as the Sally's story takes center stage. However, Mansell carefully weaves the narration back to Lola and the resolution of her story. Readers may want to see more of Dougie in this novel, since much of the novel shifts in point of view between Lola, Sally, and Lola's friend Gabe.Mansell's writing is engaging, and though some of her characters, like Lola and Dougie's sister Sally, are shallow at first, the complications in their lives force them to look beyond their own lives and come to terms with themselves, their families, and their love lives. Highly recommended for readers who love British humor, chicklit, and are in need of summer reading.
Review by Bababernice
16/06/2015
It was pretty hard for me to actually like the main character, Lola. She frustrated me and she was incredibly needy wanting Doug so much it baffles me. But overall, the plot on its own was enjoyable. The characters unfolded nicely and it was quaint read. Gabe and Sally was particularly a nice addition to the storyline. While it didn't exactly left an imprint, it was definitely a nice read for anyone who wants a light chic lit.