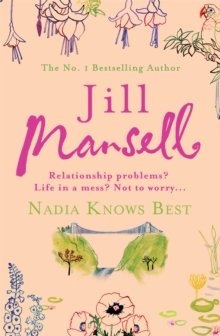 Nadia Knows Best
Paperback
Description
NADIA KNOWS BEST is an unputdownable romance from the Sunday Times bestselling Jill Mansell, whose novels are must-reads for fans of Cathy Kelly and Lucy Diamond.When Nadia Kinsella meets Jay Tiernan, and the weather traps them in a remote Cotswold pub, she's tempted, of course she is.
But Nadia's already met The One. She and Laurie have been together for years - they're practically childhood sweethearts and she still gets butterflies in her stomach at the sight of him.
Okay, so maybe she doesn't see that much of him these days, but that's not Laurie's fault.
She can't betray him. Besides, when you belong to a family like the Kinsellas - bewitchingly glamorous grandmother Miriam, feckless mother Leonie, stop-at-nothing sister Clare - well, someone has to exercise a bit of self-control, don't they?
I mean, you wouldn't want to do something that you might later regret...
Information
Format: Paperback
Pages: 448 pages
Publisher: Headline Publishing Group
Publication Date: 08/03/2007
ISBN: 9780755332618
Free Home Delivery
on all orders
Pick up orders
from local bookshops
Reviews
Showing 1 - 2 of 2 reviews.
Review by magemanda
16/06/2015
Nadia is a twenty-something landscape gardener who we meet for the first time when she is stranded in the snow and rescued by Jay Tiernan, a rather gorgeous property developer. Despite sparks between them, Nadia does nothing because she is involved with The One - Laurie, a model. Predictably, soon after this Laurie dumps her and moves to America to pursue his modelling career. Also predictably, Nadia meets Jay again and is about to embark on a relationship with him when Laurie comes back into her life saying he made a massive mistake and wants her back. Nadia vacillates between the two men, but needs to make a decision before she loses everything.So, a very predictable book. And, although warmly written and hard to put down, one in which there were a number of superfluous subplots and some really dislikeable characters. The worst for me was Clare, Nadia's sister. She is appallingly spoilt, believes herself to be irresistible, does huge amounts of damage to people's relationships and shrugs off a miscarriage as though it didn't happen. Sure, she didn't want to be pregnant, but I think it would have been braver and less fluffy for Mansell to have the pregnancy run its course.Some areas of the plot went nowhere. Robbie's brother - the gay art dealer - was presumably only brought in for comic effect and had a tiny bit part before he was dropped with no resolution to the storyline. Here again I might have liked to see Clare meet him gratefully for dinner, after the debacle of the first night she went to see him. I disliked the 'mystery' of Miriam - and my previous liking for the character went down several notches when it was revealed (in a massive amount of exposition and info-dumping) what her back story was. She had been a genuinely eccentric character that I enjoyed reading about, but her story drifted into rather surreal territory.I did like the main characters of Nadia and Jay (although I did wish that Nadia could have made up her mind a little more quickly - however, had she done that, we wouldn't have had the last page showdown that is so fashionable for these sorts of novels). My favourite characters and storylines revolved around Tilly, James and Annie - they were warm and realistic, and I felt glad that everything worked out well for them.Certainly not my favourite chick lit author by any means! Isn't doing anything particularly clever or interesting, and doesn't believe in 'show, don't tell'. I will likely read more by Mansell because she has a large back catalogue and her books are relatively diverting for a quick read, but I will borrow rather than buy.
Review by Tahleen
16/06/2015
This one was not my favorite Mansell, and I was left disappointed. It still has plenty of antics and funny moments and dialogue, but I disliked almost every character and there wasn't much of a story. The only conflict between Nadia and finding her dream man was a love triangle, which is resolved without her knowing all the details. There is some dramatic irony that I was disappointed didn't get revealed.<br/><br/>Also, her sister is awful, and the lead-up to her grandmother's secret felt overblown and took too long to be revealed. I will definitely keep reading Mansell's books, but this one was a miss for me.