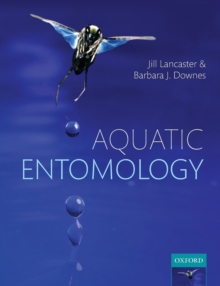 Aquatic Entomology
Paperback / softback
Description
Aquatic insects are the dominant invertebrate fauna in most freshwater ecosystems, and figure prominently in the work of a diverse range of researchers, students, and environmental managers.
Often employed as indicators of ecosystem health, aquatic insects are also commonly used as model systems to test hypotheses in ecological topics including metapopulation and metacommunity dynamics, recruitment limitation, trophic interactions, and trophic networks.
Due to theircomplex life cycles, aquatic insects must master both terrestrial and aquatic environments, crossing these ecosystem boundaries during different stages of development and reproduction.
In this wide-ranging text, life under and on top of the water surface are covered in unusual detail, including the biomechanics of life in water, locomotion underwater and on surface films, gas exchange, physico-chemical stressors, feeding, sensory perception and communication, reproduction, egg-laying and development, and the evolution of aquatic habits.
The threatened status of freshwaters around the world, coupled with an expanding population of researchers and managers charged with theirwell-being, signals the importance of such a book as many individuals seek to understand how insects function in these often challenging physical environments. Interest in freshwaters may never have been higher with ever-increasing conflict between water allocation for human (agricultural) use andconservation. Aquatic Entomology is suitable for graduate students, researchers, and managers interested in the subject from a perspective of either basic or applied ecology.
It will also be a valuable supplementary text for courses in limnology or freshwater ecology, entomology, and water resource management.
Information
Format: Paperback / softback
Pages: 296 pages
Publisher: Oxford University Press
Publication Date: 20/06/2013
Category: Freshwater biology, limnology
ISBN: 9780199573226
Free Home Delivery
on all orders
Pick up orders
from local bookshops