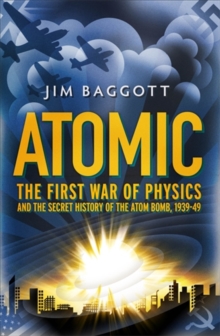 Atomic : The First War of Physics and the Secret History of the Atom Bomb 1939-49
Hardback
Description
Rich in personality, action, confrontation and deception, "Atomic" is the first fully realised popular account of the race to build humankind's most destructive weapon.
The book draws on declassified material, such as MI6's FarmHall transcripts, coded Soviet messages cracked by American cryptographers in the Venona project, and interpretations by Russian scholars of documents from the Soviet archives.
Jim Baggott weaves these threads into a monumental book that spans ten historic years, from the discovery of nuclear fission in 1939 to the aftermath of 'Joe-1', August 1949's first Soviet atomic bomb test.Why did physicists persist in developing the atomic bomb, despite the devastation that it could bring?
Why, despite having a clear head start, did Hitler's physicists fail?
Could the Soviets have developed the bomb without spies like Klaus Fuchs or Donald Maclean?
Did the Allies really plot to assassinate a key member of the German bomb programme?
Did the physicists knowingly inspire the arms race? "Atomic" is an epic story of science and technology at the very limits of human understanding; a tale barely believable as fiction, which just happens to be historical fact.
Information
Format: Hardback
Pages: 576 pages, Illustrations, unspecified
Publisher: Icon Books Ltd
Publication Date: 05/03/2009
Category: Military history
ISBN: 9781848310445
Free Home Delivery
on all orders
Pick up orders
from local bookshops
Reviews
Showing 1 - 1 of 1 reviews.
Review by psutto
16/06/2015
History of the making of the Atomic bomb from 1939 to the first Soviet bomb "Joe 1"A hugely ambitious book following the developments in physics immediately before the war and the physicists who pursued the bomb in France, Britain, Germany, USA and USSR taking in all the key figures. This was fascinating reading but occasionally got bogged down in detail but at just under 500 pages there wasn't much "unnecessary" detail. Although I was familiar with the UK & USA development of the bomb which culminated in Hiroshima and Nagasaki I wasn't at all familiar with the French contribution, the German efforts during the war or the espionage that brought the USSR the bomb. Along the way we see heavy water and other materials smuggled out of occupied France by the French physicists, the "Heroes of Telemark" story (the sabotage of the German controlled Heavy Water plant in Norway). Oppenheimer, Heisenberg, Bohr, Einstein and many other physicists make an appearance, we see attitudes of the US and UK governments on the bomb and there is a great afterword on nuclear proliferation post WW2 and the state of the nuclear threat today (well when the book was published so a couple of years out of date). Technical details are included but well explained so that you understand fission, enrichment and all the rest of the jargon that goes along with nuclear power and nuclear weapons.Overall – Highly recommended to those interested in WW2 history and the beginning of the cold war.