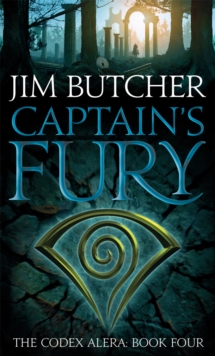 Captain's Fury : The Codex Alera: Book Four
Paperback
Description
Tavi of Calderon, now captain of his own Legion, has been fighting a bitter war for two years.
Then he discovers the invading Canim warriors are harbingers of a far greater threat.
The Canim are being hunted in their turn by a savage race that forced them from their homeland - and which has pursued them to the Aleran borders.
With options fast running out, Tavi proposes an alliance with the Canim.But the Senate's new military commander wishes only to wipe out the Canim 'scourge', and would also kill Aleran slaves that have sought freedom with these aggressors.Tavi must reconcile Aleran and Canim, slavemaster and slave, Citizen and Proletarian, if an alliance is to be forced. And he must lead his Legion in defiance of the law, against both friend and enemy - before the greatest army of all launches its assault.
Information
Format: Paperback
Pages: 608 pages
Publisher: Little, Brown Book Group
Publication Date: 01/08/2009
Category: Fantasy
ISBN: 9781841497471
Free Home Delivery
on all orders
Pick up orders
from local bookshops
Reviews
Showing 1 - 2 of 2 reviews.
Review by reading_fox
16/06/2015
Paen to soldiers everywhereContiuing to be annoying in a fast paced kind of fun way. This is very obviously the spill over from the previous book Cursor's Fury. A continuation of the same plot without much new. Heavier editing and better writing would have enabled both these tales to be concentrated inot one volume. As one can obviously guess from the title this is the story of Tavi finally coming of age and growing into his role as Preceps (heir) to the empire. He remains just a capatin for at least the first chapter, unti lthe grand revelation which hasn't in any way been obvious from book 1 and hevily foreshadowed in the previous two.SO where did we leave off - a vast force of invading Canim with Tavi in charge of the defenses. Hence politics must get involved and in a story as old an armies Tavi gets saddled with a corrupt and incompetant Senator as his leader, and has to run around and fight a lot in various ingenious ways in order to save his troops lives. Meanwhile Gaius decides to act himself and quite inexplicably manages to remove himself from the capitol without any disturbance. Anara and Bernard accompany him, the only two people who's story is interestingly unobvious.JB cheats the reader a lot in this book. Things that were constant in the previous three are subject to change Tavi in particular is suddenly granted furies, and Isana gains remarkable powers. This is hugely annoying, and unexplained. The timing seems (again) all a bit contrived with forces having to march /sail weeks etc and all happening to be in the right place at the right time even though their commanders don't know of events happening elsewhere. And as I predicted right at the start, JB just ignores some instances where watercraft would heal people. There is no reason at all why all Cursor's would not need minimum medical skills as an entry requirement, except that would make the plot too easy.Like all the previous volume thefocus is very jumpy and disengaging for the reader. I'd much prefered the book to have been written in sections focusing on one main character at a time with only a final confluence, rather than the disjointed style JB employs. All that said though, providing you don't think about anything too hard - and the writing is at least sufficiently gripping to allow that - then it is a well told, fast furious and fun filled ride. What annoys me most about the series is that it could have been so much better.
Review by eleanor_eader
16/06/2015
A slightly disappointing fourth instalment of Butcher's enjoyable <i>Codex Alera</i> series; only <i>slightly</i>, as the political and battle focus was as tightly wound and satisfying as in the previous book, <i>Cursor's Fury</i> which I consider the best in the series so far. <i>Captain's Fury</i>, however, spends too much time (and time-wasting peril inflicted for the sake of giving the protagonists something to do) with Count Bernard and the Cursor, Amara, escorting the First Lord of the realm through woods, swamp and enemy scouts to the site of a volcano. While an interesting side-line in theory, every time that I, as the reader, was forced to leave Tavi's storyline and join them on their frustrating slog, well… the frustration rubbed off as boredom.Nothing about Tavi's storyline is boring, however… the Canim army are butchering legion troops and recruiting freed slaves to their cause, further boosting their force and potential for regional disaster, setting Aleran against Aleran… and Tavi, kept from acting sensibly by a treacherous Senator in their midst, arranges a back-door truce, despite the danger of being branded a traitor himself, since his offer involves releasing Canim Ambassador Varg, from the Grey Tower, and bringing him across enemy lines to the Canim commander. Lots of fun. There's some belated angst, when Tavi learns what the reader has been pointed at for the last three books… that Isana is his mother, and that he's the son of the late Gaius Septimus, and – rather more to the point of his hurt – Isana deliberately suppressed his fury-craft so that he wouldn't be recognised and targeted, but the angst is offset by learning more about Tavi's backstory, and as he gets a grip of himself quickly, this didn't detract from my enjoying the book in any measurable way.The character-crafting is as strong as ever. While my rating of this book isn't that high, it wouldn't detract from a five-star rating of the series over-all, so far, (taken as a young-adult read).
Also in the Codex Alera series | View all