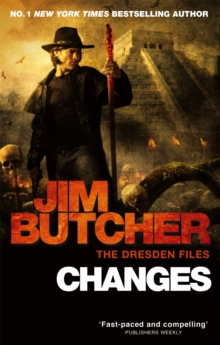 Changes : The Dresden Files, Book Twelve
Paperback
Description
Meet Harry Dresden, Chicago's first (and only) Wizard P.I.
Turns out the 'everyday' world is full of strange and magical things - and most of them don't play well with humans.
That's where Harry comes in.But even a career of narrow escapes and supernatural shenanigans hasn't prepared Harry for this.
A vampire with a grudge has kidnapped his daughter. A daughter he never knew he had. Furthermore, this vampire plans to use her blood in a violent ritual sacrifice - designed to kill Harry, his ex-partner Susan and their child.As allies are perilously thin on the ground, Harry must find a new source of strength.
In the past, there had always been a line he wouldn't cross, and he's never given in to the full fury of his own untapped dark powers.
But then, only his own life was at stake.Magic - it can get a guy killed.
Information
Format: Paperback
Pages: 576 pages
Publisher: Little, Brown Book Group
Publication Date: 01/03/2011
Category: Fantasy
ISBN: 9781841497143
Free Home Delivery
on all orders
Pick up orders
from local bookshops
Reviews
Showing 1 - 2 of 2 reviews.
Review by AHS-Wolfy
16/06/2015
Changes indeed. And then some. Everything you know about Harry Dresden, Chicago's finest (and only) Wizard PI, from his family and friends right through to his job and his home are affected to varying degrees. He has to make some tough choices over which lines he's going to cross as well.Spoilery plot bit follows:<i>Susan Rodriguez, former lover and half-vampire, needs Harry's help. She tells him that the Red Court has taken their daughter and she needs help in finding her and getting her back. When he discovers the full enormity of the powers involved Harry realises that he's seriously out-gunned on this one and will have to call in some extra fire-power from somewhere if he's to have any chance of rescuing the daughter he never knew he had. The White Council refuse his plea for help so who does he turn to next?</i>End of spoilery plot bit.The action continues to explode at breakneck speed with barely a moment to take stock for either the reader or cast of usual suspects. Karrin Murphy, cop who may be about to lose her shield, places herself firmly at Harry's side as does his apprentice Molly and his half-brother Thomas and of course it wouldn't be the same without Mouse padding along as well. Nine companions set off on the quest and the homage to LOTR is fitting (and no, Harry doesn't get to be Gandalf). Some major plot-lines are resolved in this book so it certainly isn't a good starting point for those new to the series and it's also a kick in the pants for those that are continuing with each book that comes along. Talk about a cliff-hanger of an ending.If you liked the rest of the series then you will no doubt like this one though it is darker in tone. If you don't like the series then what are you doing reading a review for book 12?
Review by jerevo
16/06/2015
Mr. Dresden's continued survival becomes increasingly improbable with each successive book, but the series continues to deliver reliably gripping entertainment. Great for those times when you need to switch off, but don't have the energy for anything more serious.
Also in the Dresden Files series | View all