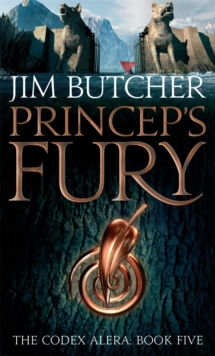 Description
After bitter fighting, Tavi of Calderon has eventually forged an alliance with Alera's oldest foes, the savage Canim, and he must escort them on their long sea-voyage home.
This will strain their fragile accord - but the worst is yet to come. The inhuman Vord have spent the last three years laying waste to the Canim homeland, making it a desolate place indeed.
Then the Alerans become stranded there, cut off from their ships.
The Canim alliance will be tested as they enter the killing fields together, depending on each other's strengths if they both are to survive. For a thousand years, Alera and her furies have withstood every enemy, and survived every foe.
The thousand years are over.
Information
Format: Paperback
Pages: 560 pages
Publisher: Little, Brown Book Group
Publication Date: 01/11/2009
Category: Fantasy
ISBN: 9781841498522
Free Home Delivery
on all orders
Pick up orders
from local bookshops
Reviews
Showing 1 - 4 of 4 reviews.
Review by lewispike
16/06/2015
Tavi, Gaius Octavius that is, sails the canim home to avoid the assassins and the political fall-out of his bursting onto the scene. Meanwhile... things at home go to pot as the Vord establish themselves in the lava that drowned Kalare and start expanding from that base. Just to add to the fun, the Canim homelands are almost all overrun too!There is a lot of fighting, a fair amount of really smart furycrafting on a huge scale, and some sneaking around too. Plus, of course, some really stupid mistakes along the way.Another tour de force in this series.
Review by cherrymischievous
16/06/2015
Jim Butcher delivers another masterpiece. Fast-paced, page-turner... Story-telling quality is 5 out of 5. The story itself is 5 out of 5. I like the US cover better than what we have here in the UK. So I'll cheat and not consider the cover art in the rating at all. Plus I noticed that the UK cover got topographical errors, instead of printing "apostrophe S" ['S], they printed "S apostrophe" [S'] in PRINCEP'S. See pic of erroneous cover on the right. I'm picky I know! But I expect publishers to have people in quality control, or some such. And just a note people, this book is now 50% off at Borders!! Brand new copy!! As you can imagine it is going out fast...Over all, this book is a 5 out of 5. Maybe because I am a Jim Butcher long-term fan... might have something to do with it...Ordered First Lord's Fury and can't wait for it to arrive in the mail!!! Had to order it all the way from the US because they are not releasing it here in the UK yet *bummer*!Cherry's Rating: 5 out of 5
Review by eleanor_eader
16/06/2015
This fifth book in Jim Butcher's <i>Codex Alera</i> series had better balance than the previous instalment, which had sections that dragged; Butcher's talent for pacing is a double-edged sword, because when he adopts a lazy attitude to certain things, the reader immediately notices the lag. It was nowhere near as intrusive in this volume; although, sending Tavi overseas just to have to retreat again, giving events in Alera time to position themselves for the last book, was a bit too obvious a plot-holder. Then again, it was at least an enjoyably written plot-holder that had me fooled into believing it was the point of the book for a long time… I love Tavi's relationship with the Canim (or perhaps I just enjoy the thought of giant, fluffy warriors).While Tavi is rescuing Canim from the Vord – or at least manoeuvring them until they rescue themselves, and him, and the Free Alerans with them – back in Alera, the Vord are destroying the humans in their path with little effort. Taken fighters and citizenry, with their attending furycraft, bolster the enemy's position until whole cities are abandoned or destroyed. Isana negotiates a truce between the Icemen of the north and the legions holding them back, to free the forces to engage the Vord, but every advantage gains them only time. For once, all the lines of story – Isana's, Amara and Bernard's, and Tavi's, were each as engaging as the other, so there was no frustration in the switching of points of view. And once more, Butcher uses personalities layered with varying loyalties, friendships and family bonds to devastating effect. I think, even had this book been a puddle of sludge, pace-wise, I would have forgiven it everything for the appearance, finally, of Tavi's manifest Fury, and the means by which he gained it (cryptic to avoid spoilers, sorry). That was well worth waiting for.Each of these books has left me with an eagerness to read the next, which is the only reasonable marker of a great series, fantasy or otherwise. <i>First Lord's Fury</i> looks to be the thickest of the books, and I look forward to lots of intrigue, fighting with various foes and conscripting of unlikely allies, and some proper Vord ass-kicking - because they give me the <i>creeps.</i>
Review by jmoncton
16/06/2015
Not much more to add about book 5 of a stellar series. I love listening to these books, so much that I am saving the next and final book of the series for a time when I can really listen and enjoy the book. I think I'll get a sign that says 'Listening to a great book. Please do not disturb.'
Also in the The Codex Alera series