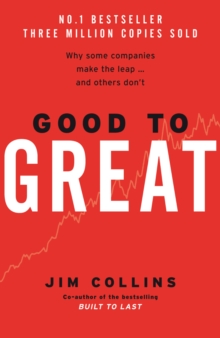 Description
Can a good company become a great one and, if so, how?After a five-year research project, Collins concludes that good to great can and does happen. In this book, he uncovers the underlying variables that enable any type of organization to make the leap from good to great while other organizations remain only good. Rigorously supported by evidence, his findings are surprising - at times even shocking - to the modern mind. Good to Great achieves a rare distinction: a management book full of vital ideas that reads as well as a fast-paced novel.
Information
Format: Hardback
Pages: 320 pages
Publisher: Cornerstone
Publication Date: 04/10/2001
Category: Business & management
ISBN: 9780712676090
Other Formats
Paperback from £5.59
CD-Audio from £16.25
Free Home Delivery
on all orders
Pick up orders
from local bookshops
Reviews
Showing 1 - 2 of 2 reviews.
Review by mara_hancock
16/06/2015
I'm loving this book. It really speaks to me on so many levels. I really like that it reflects real data and not just the latest management fad.
This book was one of those "prescribed reading" books you get from time to time in the work place. The deal was that we'd read a chapter or two every week and then discuss it in the weekly management meetings. Well suffice to say, that idea hasn't really worked out as planned but I did finish reading the book in my own time and feel that it was largly worth while. The book is very much a scholarly work in that it took the author and a considerable research team more than 5 years worth of research to come up with the information contained in the book. With that it mind it feels like the author is at times just bursting to tell you every snipit of information that they discovered during the course of the research but he does a pretty good job at reigning himself in (except maybe for the 40 page appendix). That said the book was an easy read due to the fact that it focused on a hand full of points and drove their value home with copious case studies. The upshot of this (they only found 11 "great" companies out of the 1,400 odd companies they looked at) is that you can't help wonder if they weren't so much "great" companies as companies who had the right people at the right time who made the right decisions. The author even drives this point home a bit by saying that it's almost impossible to find "level 5" leaders and those that they did find kind of landed up where they were by accident. The over riding principle of the book is that the "great" companies got where they were through long term planning and dedication ("passion" in the authors words) which is hardly a new concept but the nuances that he adds to this sweeping statement are certainly interesting (the "hedgehog concept" for instance). I think the inclusion of the last chapter ("From Good to Great to Built to Last") where the author tries to tie this book to his previous book ("Built to Last") was a mistake as it tries to show the links between the two and doesn't come off doing that so well for the people who haven't read his other book. As with all "self help" books you may learn amazing new things but their true value really comes to light when you are able to apply them in practice and that is where I think things will be tough for readers of this book. The book's reliance on case studies also accelerates it's ageing as one of the 11 "great" companies (Circuit City) is currently backsliding to a "good" company due to store closures and staff layoffs.