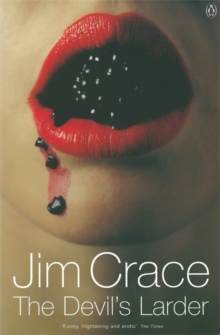 The Devil's Larder
Paperback
Description
THE DEVIL'S LARDER is a cumulative novel in sixty-four parts, all on the subject of food.
Crace's readers might learn that little is to be trusted about food from these hilarious, delightful and subversive ingredients, but they will encounter a startling and touching patchwork portrait of a community where meals are served with lashings of passion and recipes come spiced with unexpected challenges and hopes.
Information
Format: Paperback
Pages: 208 pages
Publisher: Penguin Books Ltd
Publication Date: 04/07/2002
ISBN: 9780140276411
Other Formats
Paperback from £6.65
EPUB from £3.59
Free Home Delivery
on all orders
Pick up orders
from local bookshops
Reviews
Showing 1 - 1 of 1 reviews.
Review by elliepotten
16/06/2015
Wow, this book was a disappointment. With the 'foodie vignette' premise, the striking lipsticked mouth on the front, and words like 'erotic', 'funny', 'delicious', 'tender', and 'profound' floating around in the reviewer quotes on the cover, I had high hopes. I was expecting a kind of fusion of Joanne Harris and Laura Esquivel, something sensual and rich, maybe with a hint of magic and darkness about it. Sounds good, right? Wrong. It was nothing like that. In fact, the food link in itself was rather tenuous at times. The book was just plain sick. Rather than touching tales, warmth and insight, these vignettes were bitter sour, riddled with food poisoning, sewers, various bodily functions, death and decay. A chef poisons his customers and enjoys thinking about how their bodies will violently reject his food later that day. A character watches a new set of neighbours unsuspectingly growing 'delicious' fruit and vegetables in the old owner's latrine disposal pit. A man watches through binoculars as schoolgirl shellfish-collectors and their teacher urinate on the beach. They're just a couple of the delights on offer. This just goes on and on - even when the story starts out nicely, it's like Crace can't resist throwing something disgusting in there to drag it back into the gutter. After the first few vignettes it really started to feel unnecessary and gratuitous, and once or twice I nearly gave up on the book, it was making me feel so ill. I carried on in the hope that there might just be a 'chapter' or two that would touch me, offer something profound, and thus make the rest worthwhile. I didn't find one. The whole thing just left me cold. I am very open-minded, not at all easily shocked, and I usually appreciate the subtleties behind a disturbing read, but - sorry Crace enthusiasts - this time I have no qualms about offering it a paltry half a star (just for the effort of writing) and saying that this was possibly the worst book I have ever read in my life.