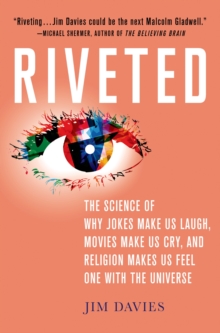 Riveted : The Science of Why Jokes Make Us Laugh, Movies Make Us Cry, and Religion Makes Us Feel One with the Universe
Hardback
Description
Why do some things pass under the radar of our attention, but other things capture our interest?
Why do some religions catch on and others fade away?
What makes a story, a movie, or a book riveting? Why do some people keep watching the news even though it makes them anxious?The past 20 years have seen a remarkable flourishing of scientific research into exactly these kinds of questions.
Professor Jim Davies' fascinating and highly accessible book, Riveted, reveals the evolutionary underpinnings of why we find things compelling, from art to religion and from sports to superstition.
Compelling things fit our minds like keys in the ignition, turning us on and keeping us running, and yet we are often unaware of what makes these "keys" fit.
What we like and don't like is almost always determined by subconscious forces, and when we try to consciously predict our own preferences we're often wrong.
In one study of speed dating, people were asked what kinds of partners they found attractive.
When the results came back, the participants' answers before the exercise had no correlation with who they actually found attractive in person!We are beginning to understand just how much the brain makes our decisions for us: we are rewarded with a rush of pleasure when we detect patterns, as the brain thinks we've discovered something significant; the mind urges us to linger on the news channel or rubberneck an accident in case it might pick up important survival information; it even pushes us to pick up People magazine in order to find out about changes in the social structure.
Drawing on work from philosophy, anthropology, religious studies, psychology, economics, computer science, and biology, Davies offers a comprehensive explanation to show that in spite of the differences between the many things that we find compelling, they have similar effects on our minds and brains.
Information
Format: Hardback
Pages: 288 pages, illustrations
Publisher: Palgrave Macmillan
Publication Date: 05/08/2014
Category: Popular science
ISBN: 9781137279019
Free Home Delivery
on all orders
Pick up orders
from local bookshops
Reviews
Showing 1 - 5 of 10 reviews.
Previous | Next
Review by Daniel.Estes
27/08/2015
In Riveted, author and professor Jim Davies takes us on a journey through the mind, though not so much the chemical makeup of the mind, but rather seeing the mind manifest itself in every day human nature.
Review by figre
27/08/2015
This book made me very angry. That anger did not come from any of the particular points that were made, although there will be ideas that upset people with certain world views and mindsets. Rather, my anger was actually rooted in disappointment. I felt I was reading one of the best science/informational books I've read in long time. And everything – all the value, all the insights, all the really good stuff – was subverted by the occasional inclusion of content that did not match the high standards I saw everywhere else in the book. According to the book's cover, this is about "the science of why jokes make us laugh, movies make us cry, and religion makes us feel one with the universe." Davies fulfills that promise and more. The accomplishment of providing so much valuable information was why I wanted to like it so much. But throughout the book there were jarring moments where rigor seemed to take a backseat.And then there is the last chapter. But before explaining just what went wrong, let's talk about how good this book almost was.Riveted contains some of the most interesting information I have seen in a long time. Jim Davies has done an excellent job of pulling together an incredibly large and diverse group of sources to attempt an explanation for why humans react the way we do. All of this is in support of his "compellingness foundations theory". (And, if I may be allowed to foreshadow a little, that may be at the root of much of the problem – we seem to have a partially constructed theory here; one that is waiting for further proof.)He brings together the surprising commonalities that exist in areas and concepts such as art, religion, sports, superstitions – the plethora of life's aspects that we take for granted. However, by not taking them for granted – by questioning why it is we react the way we do – he provides insight into the basic makeup of our humanity. He is actually addressing a question as big as "what makes us human" and is able to put together answers that are understandable, insightful, and the type that should give every reader pause as he or she begins to look more closely at his or her own actions.It is easy to read, it is engaging, and it is revelatory. Which just made me that much madder. It is a book that deserves to be flawless or, at the very least, less prone to "flawfulness".I ran into my first issue with the book within the first chapter. And it continued throughout. I kept being brought up short as I stumbled across data, discussions, and conjectures that seemed to be made based on "non-rigorous" information. In some instances circumstantial evidence was used to support concepts. For example, to support the conjecture that people dominate artistic depiction, he reports the results from an art history student's review of the number of people depicted in each individual work of art found in a specific art history book. A wonderful start, but far from proof of anything, except that Davies either needed quick support for an idea or something easy for the reader to grasp. In another part of the book, he begins a description with the phrase "In an interesting but unscientific study..." How is the reader supposed to use this information?In some cases suppositions are made that I found questionable. As an example: "Science fiction, fairy tales, and fantasy genres tend to have less developed characters." Of course you can find lots of examples in these three different genres where character takes a back seat. But you can do the same for any genre. Sturgeon's Law states that 90% of anything stinks (paraphrasing). So it is not inconceivable that the majority of science fiction may come up short in the area of character. But, to indicate science fiction suffers from a disease not suffered elsewhere is to ignore the majority of all fiction that has similar limitations. Davies has made a broad-based statement that seems to be based on "feel" rather than rigorously vetted information.I also lost track of the number of times I read something to the effect of "My conjecture is..." or "My theory predicts that..." followed by the hope that, in the future, research will support what is about to follow. (Note that in some instances even this disclaimer was not included; instead, just stating that he thinks the following is true.) Again, what is the reader supposed to make of this? Is this a book about what is known or about what Davies hopes will be proven true?This book is well researched. Why does it have to be hamstrung by these lapses?I will note that Davies seems to acknowledge this particular issue. As he notes "the book is super lumpy", going on to indicate that he is describing "a possible research program". The result is a book that seems to be for scientists ("Hey, go look over here") and laymen ("Look at all this cool stuff") and, in the process, does not serve either particularly well.And now about that last chapter. Why is it that scientists seem to have this overpowering desire to speak up about religion? Throughout the book Davies includes discussions of religion and how we may be hardwire to accept it. I am fine with that; it is part of the entire discussion of why we appreciate art, etc. But then along comes the final chapter – "Why We Get Riveted" – which purports to be a summary of what has come before. Instead, after some warm up about celebrity worship (Davies' word choice) the chapter becomes devoted (an unintentionally ironic word choice on my part) to discussion on why we care about religion. Now, the chapter does not come right out and say that religion is a bad thing. But there is an underlying tone that implies that being a religious person is not necessarily the best choice.It is veiled, but it feels that there is a touch of proselytizing here. And it is a dirty thing to put at the end of a potentially excellent book.I have spent an inordinate amount of time, words, and pixels on this book. And a lot of it has been spent on lambasting it for the problems I saw. I am not a believer in criticizing just to throw more words out there. That kind of critical review is not worth the time. But, again, this book held so much promise that these shortcomings became even more glaring. Ultimately I am torn on whether this book should be recommended or not. I guess, because of the incredible value I found (it is a resource I know I will be returning to time and again), I would say it is worth having. Just know that such a recommendation comes with a caveat – that warning being all those words I've used above.
Review by snash
27/08/2015
In an effort to understand human behavior the author examines five principles from our subconscious or biology that compel humans to respond and suggests these "compellingness foundations" make something riveting. The information is well presented and researched, even including studies that do not support a given point. The title is a little misleading since a there is a disproportionate focus on arguing science is a truer body of knowledge than religion.I would agree but while the author does admit to some shortcomings of science, he was less rigorous in pointing out how often science is influenced by the same subconscious compellingness foundations as religion.
Review by EowynA
27/08/2015
The introduction starts by introducing the functions of the "old brain" and the "new brain", and what they bring to the table. He then introduces his "Compellingness Foundations Theory" (not a particularly riveting name), which is composed of 6 aspects. These are the subjects of the first 6 chapters: People, Hope & Fear, Patterns, Incongruity, Biological Nature, and Psychological nature. The final, 7th chapter, pulls them together. At the end are the extensive footnotes. I admit, I had hoped to be more compelled by the book. It feels like a good first cut at the subject, but it is not itself riveting.
Review by NewsieQ
16/06/2015
I had high expectations when I read the blurb on the dust jacket … in which another author writes, "Jim Davies could be the next Malcolm Gladwell." My first thought was that we didn't need a "next" Malcolm Gladwell, as the current one is alive, well and still writing as far as I know. My final thought, after finishing Riveted, was, "Jim Davies is no Malcolm Gladwell."Whereas, Riveted seems to me like a thousand factoids in search of an idea, Mr. Gladwell's books involve actual storytelling … and building a coherent case that non-expert readers can understand along with the author. I'm sure Mr. Davies is a brilliant person, and Riveted is for other brilliant people who share his vocabulary, not us mere mortals. I'm not saying Riveted is a terrible book because it gave me few aha moments along the way. I'm just saying that I was NOT riveted by Riveted.Review based on publisher-provided copy of Riveted.
Also by Jim Davies