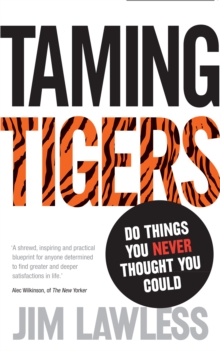 Taming Tigers : Do Things You Never Thought You Could
Paperback
Description
Everybody has a Tiger. It is the thing that snarls at us when we think about making a change in our lives and stops us developing and achieving our potential.
In Taming Tigers Jim Lawless shares his proven and inspirational training programme to help you achieve your dreams by taming the Tigers in your life. Now for the first time, you can learn how to use these highly practical rules to overcome your fears and do things you never thought you could - in both your professional and private life. 1.Act boldly today - time is limited2.Re-write your rulebook - challenge it hourly3.Head in the direction of where you want to arrive, every day4.It's all in the mind5.The tools for Taming Tigers are all around you6.There is no safety in numbers7.Do something scary everyday8.Understand and control your time to create change9.Create disciplines - do the basics brilliantly10.Never, never give up!Read case studies from people who have changed their lives by following the rules, and hear about Jim's experience of grabbing his own Tiger by the tail, as he went from a thirty-six-year-old overweight non-riding consultant, to a fully-fledged jockey and UK freediving record holder in 12 months - proof that Taming Tigers works!
Information
Format: Paperback
Pages: 304 pages
Publisher: Ebury Publishing
Publication Date: 09/02/2012
Category: Coping with anxiety & phobias
ISBN: 9780753539910
Free Home Delivery
on all orders
Pick up orders
from local bookshops
Reviews
Showing 1 - 1 of 1 reviews.
Review by hjvanderklis
16/06/2015
You're writing your life story. Yesterday's history, tomorrow's imagination. Here and now really counts. And just dreaming will not take you anywhere. Get out of your comfort zone, face your Tigers and tame them. Don't let them write your life story, but take back control. Taming Tigers is not a typical self-help book for instant success. Jim Lawless is not a motivational speaker, but practiced his lessons himself. He won a bet to learn ride a horse like a real jockey and compete in a televised race within 12 months. And he became the first British free diver to descent to 101 meters below surface in a single breathe. Taming Tigers is the antidote to 'self-help' and a highly practical approach to overcoming fear. It's like Pi learning to live with the tiger on a boat in Yann Martel's best seller The Life of Pi. Do things you never thought you could by applying 10 rules that are based on a mixture of Stephen Covey personal mission statement and habits of effective people, Daniel Pink's thoughts on motivation, Maslow's pyramid of needs, time management and overcoming procrastination and fears blocking you from getting where you wanted.Lawless is constantly challenging his readers to put down the book and getting into action. On his website tamingtigers.com he offers accompanying movies. And in the book several friends and course participants share their testimonials about how the 10 Rules really worked. Whether it's daring to emigrate to Australia, start a new business or revive the company you're working for. Again, no instant success promised, discipline and excel in basics make up of of the rules. Enough said: meet your tigers and learn that they don't have teeth.