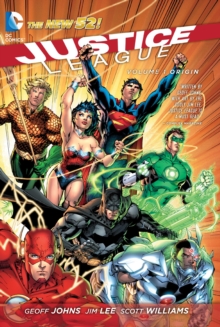 Justice League Volume 1: Origin TP (The New 52)
Paperback
Description
A New York Times Bestseller! As a part of the monumental DC Comics- The New 52 event, comics superstars Geoff Johns and Jim Lee bring you anall-new origin story for the Justice League!
In a world where inexperienced superheroes operate under a cloud ofsuspicion from the public, loner vigilante Batman has stumbled upon a dark evilthat threatens to destroy the earth as we know it.
Now, faced with a threat farbeyond anything he can handle on his own, the Dark Knight must trust an alien, ascarlet speedster, an accidental teenage hero, a space cop, an Amazon Princess,and an undersea monarch.
Will this combination of Superman, The Flash, Cyborg,Green Lantern, Wonder Woman, and Aquaman be able to put aside their differencesand come together to save the world? Or will they destroy each other first?In one of the most game-changing titles in comic industry history, GeoffJohns and Jim Lee re-imagine the classic heroes of the DC Universe for the 21stcentury.
This volume collects issues #1-6 of Justice League, part of theDC Comics - The New 52 event.
Information
Format: Paperback
Pages: 192 pages
Publisher: DC Comics
Publication Date: 01/02/2013
Category: Superheroes
ISBN: 9781401237882
Free Home Delivery
on all orders
Pick up orders
from local bookshops
Reviews
Showing 1 - 4 of 4 reviews.
Review by nmhale
16/06/2015
I haven't read superhero comics in a long time. Aside from the Fables series, most of my graphic novel reading in recent years has been manga. Still, I collected Marvel comics all through high school, and now that I have the chance of going to Comic Con this year, I decided to geek out a little. I chose Justice League, particularly because DC recently had this huge reboot where they restarted all of their series from scratch. All of them. Meaning I can just jump in without worrying about back story.I liked this collection. I thought I would pick it up and just read a bit, but ended up reading the whole book in a couple of hours. I'd forgotten how comics draw me in. This, the first volume, is an origin story about the formation of the Justice League. Apparently, DC has multiple justice leagues, but this is the main one, the heavy hitters. Batman, Superman, Green Lantern, Wonder Woman, Flash, Aquaman, and Cyborg. Most of them haven't even met before this arc begins, and the story starts right in the action, with Batman under attack ... by the police. Meanwhile, he is trying to hunt down a fire-breathing creature that may be alien. Caught between two forces trying to kill him, the mighty Bruce Wayne is having a bit of trouble, until a green train smashes into the alien creature. A brash and arrogant Green Lantern is rather surprised to discover that Batman actually exists, but they forge an uneasy alliance in order to hunt down the creature. After destroying it, they still have too many questions, so they decide to ask another alien: Superman. In short order, the trio are joined by Flash and Wonder Woman, and eventually Aquaman and Cyborg join the party. With their combined skills and intelligence, they confront Darkseid, the mastermind behind hordes of attacking fire-breathing aliens. I'm a sucker for origin stories. I want to be in on the formation of the group. Typical of superhero teams, their is plenty of friction. Batman and Green Lantern are antagonistic from the start, and only work together because they have no choice. When they meet Superman, Green Lantern sets entirely the wrong tone, and the readers get a three-way brawl between the best names in the DC universe. Of course, everyone eventually learns to get along, at least until the job is done, and at the end a tentative team is formed. The complicated relationships indicate plenty of drama in issues to come. No romance yet, just a few dropped jaws at Wonder Woman's appearance, but this is a superhero comic, so I know that door will open soon. The action is fast and fun, with high stakes, necessitating the combined efforts of all the heroes. I certainly plan on checking in on this series frequently.
Review by catya77
16/06/2015
The history of how the Justice League formed is explored or is begun to be explored.Detailed illustrations add to the plot narrative, character development, and action sequences.Characters while flawed have great potential for future episodes and interactions.Overall, an interesting read.
Review by jshillingford
16/06/2015
Though I'm familiar with the Justice League from the tv shows, I've never read any of the graphic novels before this. So, I can't compare this New 52 version to what came before. But as a relative newcomer to comics in general, it is a good starting point.First off, the truly awesome cover art is continued inside. The art, and dialog, is very reminiscent of the Justice League Animated TV Series, which I loved. And though this is an "origin" story, the author takes the liberty of assuming you know at least a little about these characters, so the story doesn't become bogged down in inessential details. Only Cyborg gets a bit more fleshing out since he's not the icon that the others are. All of these characters are "loners" so it makes sense that they wouldn't immediately gel into a team. In fact, like the Avengers, they have a couple of pissing matches first. This provided for a lot of humor. I was surprised to find such a heavy-hitter as their first challenge, but the story left it open for him to return so it worked.There are a couple things that I didn't like. First, I don't think Batman would just up and reveal his identity to anyone, let alone Green Lantern! This seemed so out of character. Other than this, he was just what readers expect and the team needs. Then there's Hal Jordan. This depiction of him is why I don't read his series, and was so disappointed in the film. This cocky, arrogant jock has no business being chosen for a ring. At one point he accidentally touches Diana's lasso and admits he's saving people in order to show off for her. Really? *eye roll*I do love how Superman, Wonder Woman, Flash and Aquaman are written. You can see how great Superman will become, BUT he's not there yet. Wonder Woman is more like a woman from an isolated island of female warriors might be – zealous for battle and delighted by ice cream. Flash is eager and optimistic, just as he should be. And Aquaman is surprisingly…badass! I'm still on the fence about Cyborg. I really like his character, and this team definitely needs some diversity, but so far he's just stepping on Batman's toes. That is, he's taking on a role that Batman usually fills (the clues, the computer work, etc.). I'd like to see him stand on his own more.Overall, this is a solid introduction of the team, supported by fantastic artwork, with a lot of potential. I'll definitely be buying the next two volumes. Highly recommended.
Review by JonathanCrites
16/06/2015
Exciting read of what truly felt like a reboot, first time adventure. I wonder what the next volume could be like.