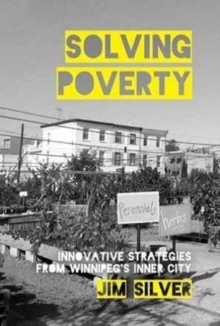 Solving Poverty : Innovative Strategies from Winnipeg s Inner City
Paperback / softback
Description
Poverty in Canada s inner cities is deep, complex, racialized and often intergenerational.
In this collection of essays published over the past decade, Jim Silver argues that urban poverty today includes not only low incomes, but in all too many cases also poor housing, poor health, low educational achievement, high levels of neighbourhood violence, racism, colonialism and social exclusion.
As a result many poor people experience low levels of self-esteem and self-confidence and may blame themselves, which is reinforced by the dominant blame-the-victim discourse about poverty.
Silver argues that today s urban poverty is qualitatively different than the urban poverty of forty years ago, and that there are no quick, easy or one-dimensional solutions.
In Solving Poverty, Jim Silver, a veteran scholar actively engaged in anti-poverty efforts in Winnipeg s inner city for decades, offers an on-the-ground analysis of this form of poverty. Silver focuses particularly on the urban Aboriginal experience, and describes a variety of creative and effective urban Aboriginal community development initiatives, as well as other anti-poverty initiatives that have been successful in Winnipeg s inner city.
In the concluding chapter Silver offers a comprehensive, pan-Canadian strategy to dramatically reduce the incidence of urban poverty in Canada."
Information
Format: Paperback / softback
Pages: 272 pages
Publisher: Fernwood Publishing Co Ltd
Publication Date: 18/07/2016
Category: Poverty & unemployment
ISBN: 9781552668214
Free Home Delivery
on all orders
Pick up orders
from local bookshops