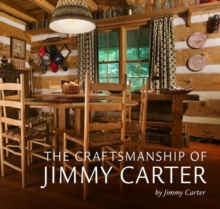 The Craftsmanship of Jimmy Carter
Hardback
Description
When Jimmy Carter was a boy he helped break the land with a mule-drawing plow.
It was slow and tedious work. But, "looking back at the end of a day and seeing how much cropland had been prepared for planting," he says, "I enjoyed a sense of accomplishment and self-satisfaction, knowing that I had done all that was humanly possible, even as a young boy, and had left behind me the visible proof of my work." He continues: "I still have similar emotions while working in my woodshop.
Periods of drudgery that come with the repetitive use of chisel, drawknife, spokeshave, plane, rasp, scraper, sandpaper, or paint brush fade into relative insignificance when I can examine the result of my labor.
The excitement of an original design, the meticulous detail of precise measurements, the characteristics of the chosen wood, the heft and beauty of the hand tools-some of them ancient in design-are all positive aspects of crafting a piece of furniture.
I like to see what I have done, what I have made. The pleasure does not fade as the years go by; in fact, with age my diminished physical strength has eliminated some of the formerly competing hobbies and made woodworking even more precious to me." The basic purpose of this book is to show the reader that even those with limited talent can develop adequate skills to produce worthwhile things.
The entire process, from learning to creating, can be enjoyable.
There is no limit to the skill that woodworkers can seek, and a few may uncover a level of artistry that is professionally beneficial.
Information
Format: Hardback
Pages: 277 pages
Publisher: Mercer University Press
Publication Date: 30/01/2018
Category: Decorative wood & metalwork
ISBN: 9780881466447
Free Home Delivery
on all orders
Pick up orders
from local bookshops