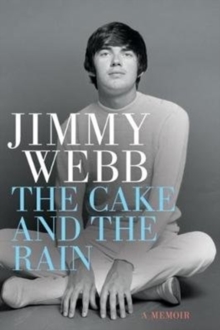 The Cake and the Rain : A Memoir
Hardback
Description
Featuring exclusive new content about Jimmy's time in the UK. "Jim, if you don't help us out John's going to get sent back to Britain.
The feds have a hard-on for him." Harry Nilsson"Going back to Britain isn't like going to the electric chair, Harry.
They have women there and daffodils and cozy little pubs." Jimmy WebbIn 1969, Webb was a 'heavy pot smoker, sexual adventurer, and hopelessly liberal Democrat who hated the war in Vietnam'; writing songs for Glenn Campbell, Frank Sinatra and Liza Minelli.
He lived in a 'Valleywood' mansion with two grand pianos and stained glass windows commemorating his musical inspirations: Joni Mitchell, Art Garfunkel, Paul Simon and Bob Dylan; George Harrison, John Lennon and Elvis Presley.
Vegas came calling, offering him $40k to play 'MacArthur Park' on the piano once a night for eight weeks.
Four years later, he was living in his gated mansion, lying for John Lennon and stashing hundred dollar bills and cocaine in his house-safe.
In 1973, the man who brought to the world songs including 'Up, Up And Away', 'By The Time I Get To Phoenix', 'MacArthur Park', 'Galveston' and 'Wichita Lineman' accidentally over-dosed on what proved to be street-level PCP. When he awoke from his coma, he didn't recognise a piano.The Cake And The Rain sees Webb whirl between the early 70s and across the whole of the preceding three decades that led to him weeping over the piano keys as his fingers finally remembered what they'd been born to do. Because there almost wasn't, Jimmy Webb still plays and records like there's no tomorrow.
This is the memoir of one of the greatest songwriters of all time: a man with unfathomable talent - and luck.
Information
Format: Hardback
Pages: 320 pages, 18 photographs throughout
Publisher: Omnibus Press
Publication Date: 05/05/2017
Category: Musical scores, lyrics & libretti
ISBN: 9781785586187
Free Home Delivery
on all orders
Pick up orders
from local bookshops