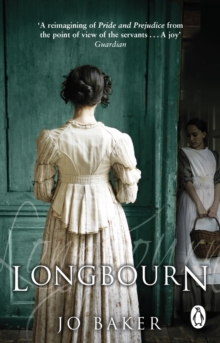 Description
THE SUNDAY TIMES TOP TEN BESTSELLER. A RICHARD AND JUDY BOOKCLUB PICK. "Utterly engrossing". (Guardian). It is wash-day for the housemaids at Longbourn House, and Sarah's hands are chapped and raw.
Domestic life below stairs, ruled with a tender heart and an iron will by Mrs Hill the housekeeper, is about to be disturbed by the arrival of a new footman, bearing secrets and the scent of the sea.
Information
Format: Paperback
Pages: 448 pages
Publisher: Transworld Publishers Ltd
Publication Date: 01/01/2014
Category: Historical fiction
ISBN: 9780552779517
Free Home Delivery
on all orders
Pick up orders
from local bookshops
Reviews
Showing 1 - 5 of 6 reviews.
Previous | Next
Review by Goldengrove
16/06/2015
This is a behind-the-scene novel, that shows the servants' lives, and I suspect you have to be familiar with Pride and Prejudice to appreciate it fully, but even if you are not it would still be a good read. Each chapter is headed with a quote from Austen, so you can keep note of 'where you are' in P&P which is rather fun. The thing that struck me most was just how removed from the family's experience this story is. Here they all are, living in the same house, in the same time frame, and the events that cause such emotion for the Bennets are merely background. I like that, it feels real. Jo Baker has done a great deal of research to understand just what the servants of a house like Longbourn would have been doing, and, as with all good historical novels, the research is a foundation for the story, but never an intrusion. The story of Longbourn is another love story, just as twisty and difficult as that of Elizabeth and Darcy, but invisible, untold. Unlike Austen's novels, this one faces the reality of the Napoleonic Wars, a nasty, brutish (and often short) reality for the ordinary soldiers who left their homes to fight it. The characters are engaging and it's a good story, although it seems to be trying to become another sort of book at the end and this doesn't really work.
Review by LARA335
16/06/2015
Fascinating glimpse into the lives of domestic staff in the 1800's. I enjoyed the research, the detail of forgotten chores such as making soap and the washing of the women's monthly rags.This novel stands on its own, illuminating the consequences of slavery, the hardships of war, and how the genteel conventions of the age hid the exploitation of so many, especially the powerless female servant.An added piece of fun is that the imagined servants live in the home of the Bennetts, and the action of Pride & Prejudice takes place mostly 'off stage' but in parallel. I shall never think of Willoughby and Mr Bennett in quite the same way again!
Review by missizicks
16/06/2015
It was okay. A little bit too pleased with itself at times, the author showing off all the research she had done a little clumsily so that it interrupted the sense of the story. A little bit miserable. I maybe shouldn't have read it straight after the best book in the world, because it showed up the paucity of language. But a decent yarn, at the end of it.
Review by Vivl
16/06/2015
The members of my book club were in two camps over this book at the outset: 1. Those who adored Jane Austen's <i>Pride and Prejudice</i> and feared that Baker may have messed with their beloved story in unforgivable ways, and 2. Those who had not read <i>Pride and Prejudice</i>, often due to a general disinterest in Austen's style, or who had read it and not been crazy about it, who weren't looking forward to reading something that might be too similar to Austen to be enjoyable.I, by the way, am of the second persuasion. I've not once even attempted an entire Austen novel. One of my reasons for avoiding Austen is doubtless flawed: the various Brontë novels I have read (perhaps... two) alternately bored and annoyed me and I generally lumped Austen in the same box as the Brontës. My other reason has perhaps more validity: the excerpts, some lengthy, of Austen that I have read have not appealed to me at all, and they were touted as prime examples of her sparkling wit. And so, all expecting the worst from our various points of view, we were pleased to find this generally entertaining and generally well-written, sometimes very well indeed. Also of interest to most everyone were the nuggets of social history upon which the two tales, the underpinning framework of Austen's work and the "below stairs" tale invented by Baker, were hung. Nobody fell madly in love with the tale but nobody hated it either, and we didn't begrudge the time we were required to spend on reading it. Personally, I found the writing occasionally very beautiful and felt that the story held together effectively. I don't see myself wanting to read this again and I may or may not look into any of Baker's future work, but it has made me feel as thought I ought to have a shot at <i>Pride and Prejudice</i> now, if only to see how the two stories work together.
Review by Violetthedwarf
16/06/2015
I read this in a day and a half. I liked the writing, which was slow, but dreamy and evocative. I found the main character a little dull, and thought she didn't do much, but her behaviour and options were constrained by the times she lived in.<br/><br/>I particularly enjoyed seeing the servants life. The life of a servant was hard, and full of filth and hard work.