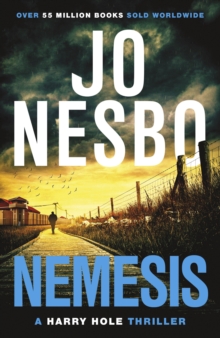 Description
OVER 9 MILLION BOOKS SOLD WORLDWIDE How do you catch a killer when you're the number one suspect?
A man is caught on CCTV, shooting dead a cashier at a bank.
Detective Harry Hole begins his investigation, but after dinner with an old flame wakes up with no memory of the past 12 hours.
Then the girl is found dead in mysterious circumstances and he beings to receive threatening emails: is someone trying to frame him for her death?
As Harry fights to clear his name, the bank robberies continue with unparalleled savagery...
Information
Format: Paperback
Pages: 720 pages
Publisher: Vintage Publishing
Publication Date: 01/09/2009
Category: Crime & mystery
ISBN: 9780099546757
Free Home Delivery
on all orders
Pick up orders
from local bookshops
Reviews
Showing 1 - 5 of 5 reviews.
Review by everfresh1
16/06/2015
Well written, all the right ingridients for police thriller - but just too many twists. This is really three separate mysteries rolled into one novel.
Review by polarbear123
16/06/2015
I would say that this is as close to the perfect crime thriller that you will get. An intricate plot so not necessarily for the casual reader, great characters with some lovely personlaity flaws, an ongoing problem for the main character and at least two crimes to solve at the same time. There is no shortage of excitement. Sure you will find yourself at times flicking back a few pages to check a couple of details but the author knows exactly where he is taking the story and the plot never feels contrived. Every time I read one of these books I am itching to read the next in the series straight away.
Review by InigoMontoya
16/06/2015
This is my third Harry Hole novel and I did enjoy it although I found, much like "Redbreast," that I was ahead of Harry annoyingly early. That said, Nesbo is a master at weaving various threads together and it is always a pleasure to follow the pattern. One of his strengths in the past was to subtlely highlight Norwegian society but that wasn't present this time, the effect of the attack on the World Trade Centre being the only running social comment and that wasn't mirrored in any way in the plot. There is over-reliance on coincidence across many levels albeit that tends to be the nature of the beast of crime fiction. It doesn't really distract.
Review by jayne_charles
27/08/2015
This is the first novel I have read by this prolific Scandinavian author. It was comforting in a way to encounter Norwegian detective Harry Hole – a man with a troubled love life, alcoholic tendencies, an unconventional detecting style and razor sharp instincts for personal survival, and think....now who does he remind me of? Ah yes – just about every other fictional detective, irrespective of nationality! It's a case of strap yourself in for a bumpy ride – the story takes off immediately and never lets up, the central case being solved any number of times before a hard and fast solution is settled on. A fast and furious chase takes us to far flung locations and includes the sort of film-friendly moments ("Follow that skip") that invite an inevitable celluloid version sooner or later. I guessed whodunit in the case of the dead girlfriend (modest cough) – it seemed obvious right from the start, but the plot's twists and turns had me convinced I was wrong for much of the book. A fun, exciting and varied read that likes to tease the reader. It's crime fiction that plays by the established rules, but in a good way.
Review by Xleptodactylous
16/06/2015
Took three books but Nesbo had nailed it now.