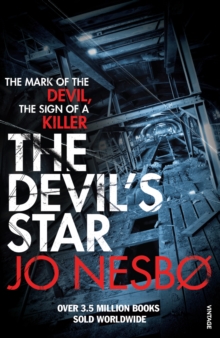 The Devil's Star
Paperback
Description
FROM THE AUTHOR OF THE SNOWMAN - OVER 9 MILLION BOOKS SOLD WORLDWIDE THE MARK OF THE DEVIL, THE SIGN OF A KILLER...A young woman is murdered in her flat and a tiny red diamond in the shape of a five-pointed star is found behind her eyelid.
Detective Harry Hole is assigned to the case, alongside his long-time adversary Tom Waaler and initially wants no part in it.
But Harry is already on his final warning and has little alternative but to drag himself out of his alcoholic stupor when it becomes apparent that Oslo has a serial killer on its hands.
Information
Format: Paperback
Pages: 544 pages
Publisher: Vintage Publishing
Publication Date: 03/09/2009
Category: Crime & mystery
ISBN: 9780099546764
Other Formats
Paperback from £7.09
EPUB from £4.99
from £7.99
Free Home Delivery
on all orders
Pick up orders
from local bookshops
Reviews
Showing 1 - 4 of 4 reviews.
Review by polarbear123
16/06/2015
Another great edition to the Harry Hole series and one when you get a few more answers too. Harry Hole fights his nemesis Tom Waaler here and bags a serial killer to boot. Once again the plot is complex and we are lead down the garden path on more than one occasion. I use fennel seeds a lot in my cooking at home but after reading this I have kind of gone off them for a while. Bring on the next does of Holey goodness!
Review by dgbdgb
16/06/2015
Another great read. A bit far fetched mind you. And difficult to be too sympathetic with alcoholic hero Harry.
Review by StuartAston
16/06/2015
The 5th book in the Harry Hole series sees Harry reaching breaking point. Alcohol has taken control and his life is crumbling. He knows who murdered his colleague but no one will believe him....his relationship with Rakel is suffering.....and his work well he is working notice after the latest drunken binge.His last case was supposed to be just a missing person but it becomes a hunt for a serial murder. As the clues start to pile up against the jewel smuggler Sven Sivertsen so the police close in on him. Harry starts to think that maybe this is too perfect though and what is perfect is not always right but how to inform his colleagues of this? Tom Waaler seems hell bent on taking Sivertsen down but why? In the end extreme measures are needed to solve the murder of both the missing woman and his colleague. But will this lead to the end of Harry or the Prince.........Best one I have read so far keeps you turning the pages right to the end as you don't know what will happen in the build up to the finale. Is it all the ramblings or a drunken detective or does he get his justice.You need to read it to find out :-)
Review by Y2Ash
16/06/2015
Jo Nesbo's The Devil's Star was about the Oslo's police force's hunt for a serial killer. It seemingly starts off with a young woman's murder in her flat and a five pointed red diamond is found behind her eyelid. Mueller has no choice but to pair both Harry Hole and Tom Waaler on the case since almost everybody is off on holiday. <br/><br/>Harry, of course, wants nothing to do with the case and ventures off on a missing persons case. Mueller, tired of Harry's drunken antics and unproven allegations of Waaler's involvement in Ellen's death, as already given Harry's retirement papers to the chief superintendent, who is also away on holiday.<br/><br/>When Harry's missing persons case connects with the murder case, the squad realizes they a serial murderer on their hands. Harry decides to stay sober long enough to catch maybe more than one killer.<br/><br/>The Devil's Star had me on the edge of my seat. It felt like a giant inhale. I could not even think about exhaling until everything ended up okay or as okay as anything can in a dark Norwegian crime novel. The character of Harry Hole pisses me off so much! He is so capable and talented and then he drinks and becomes stupid. He wounded up in a whole mess of trouble in Nemesis because of it. But he seems to be learning and maybe Raquel and little Oleg can help him with his demons.