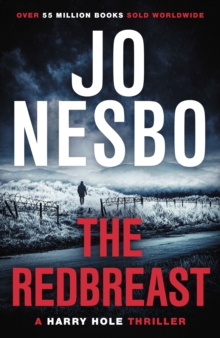 The Redbreast : Harry Hole 3
Paperback
Description
36 MILLION BOOKS SOLD WORLDWIDENot all angels are heaven sent.
I am one such angel, and I have come to pass judgement on the living, and the dead... A report of a rare and unusual gun - a type favoured by assassins - being smuggled into the country sparks Detective Harry Hole's interest.
Then a former WW2 Nazi sympathizer is found with his throat cut.
Next, someone close to Harry is murdered. Why had she been trying to reach Harry on the night she was killed?As Harry's investigation unfolds, it becomes clear that the killer is hell-bent on serving his own justice. And while the link between the cases remains a mystery, one thing is certain: he must be stopped.
Information
Format: Paperback
Pages: 656 pages
Publisher: Vintage Publishing
Publication Date: 03/09/2009
Category: Crime & mystery
ISBN: 9780099546771
Free Home Delivery
on all orders
Pick up orders
from local bookshops
Reviews
Showing 1 - 5 of 12 reviews.
Previous | Next
Review by tmannix
16/06/2015
Why is there so much great mystery writing from Scandinavia? Here's another one--this time from Norway. The protagonist, Harry Hole (a police detective in Oslo), is just the kind of flawed character I like. And the story is appealingly complex drawing on the past (WWII-era anti-Russian, pro-German activities) and the present (neo-Nazism). Great characters. The start of a love story. A gut-wrenching surprise midway in the book. And there's an unsolved plot line that makes me want to get started immediately on the next book.
Review by riverwillow
16/06/2015
A well-written mystery which kept me engaged from the first page to the last. Dark and filled with shocks, twists and turns, and certain unresolved plot developments, which will hopefully be resolved later in the series, I will definitely be reading more of these books.
Review by InigoMontoya
16/06/2015
Having already read The Snowman, I was familiar with Harry Hole and with the author's style. This was an enjoyable novel that led to much Googling on my part about historical events of which I had little previous understanding. The novel displays the typical features of Scandinavian crime tales, particularly the stark beauty of the landscape and the morose and broken protagonist. One real problem for me, which I'm starting to think may have been as a result of a serindiptitous misread, is that I knew who the antagonist was from virtually the start and this had a somewhat ruining effect. That said, I'm still eager to read more adventures of Harry Hole.
Review by polarbear123
16/06/2015
Awesome. What a dark and complex crime novel. The story peels away slowly but never loses its grip on you for a moment. Great characters, a perfectly flawed detective and some mysterious goings on both with the criminals and the police. Reading the last few chapters was like watching a Bourne movie on fast forward. It really was that exciting! Long live the Hole!
Review by lynkbailey
16/06/2015
Officer Harry Hole is in the protection squad for the visit of the American President to Norway. Following an accident he is promoted to Inspector and reassigned to a new department. As he investigates the smuggling of a rifle, the story switches from the wartime Eastern Front, Neo-Nazi groups and murders closer to home.This is an intriguing story and I found the switches from modern to history interesting. There were enough twists and turns to keep me absorbed and while the mystery is solved there are some strands left open for future development. This is the first book I have read by Nesbo but will definitely be reading some more. The only thing I didn't like was the "next Steig Larson" plastered on the front. Why? It was nothing like it - both good books in their own right but one about a policeman, one about a journalist. One set in Norway and one set in Sweden (and elsewhere). There are both crime books but then so are alot of other books! Just to warn people that if you didn't like Larson you may still like Nesbo and if you did like Larson you may not like Nesbo!
Also in the Harry Hole series | View all