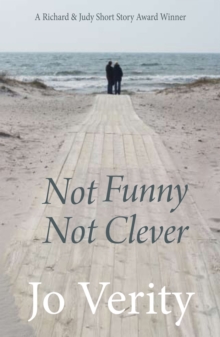 Not Funny Not Clever
Paperback
Information
Format: Paperback
Pages: 406 pages
Publisher: Honno Ltd
Publication Date: 01/03/2011
ISBN: 9781906784249
Free Home Delivery
on all orders
Pick up orders
from local bookshops
Reviews
Showing 1 - 1 of 1 reviews.
Review by jayne_charles
27/08/2015
I was dubious about picking this book up, given the presence of a spelling mistake on the front cover of all places, but I gave it a go anyway. I'm glad I did – it was a great piece of writing and an enjoyable bit of middle-aged escapism. As tends to be the case with this small Welsh publishing company, there is a steady trickle of pro-Wales propaganda, and there is the suspicion that if this book is left on your bedside table overnight it will whisper hypnotic Plaid Cymru slogans to your sleeping self, but to be fair Wales does boast stunning scenery and a rich cultural heritage including its own language. They were preaching to the converted in my case.In the book we meet Elizabeth, middle aged and buttoned-up, who has her sullen teenage step-grandson foisted on her just as she is about to visit her friend in Wales. They make unwilling travelling companions as they drive down the M4, but once in Wales Elizabeth is drawn into a steamy encounter with a "minor celebrity" (the weatherman from the local TV station) who comes in somewhere between George Clooney and Max Boyce. However unlikely such an encounter might be in the real world, it was nicely done. Parents of teenagers will find much amusement here – the presence of step-grandson Jordan is a constant hindrance to Elizabeth's plans, and hardly a page went by without some observation that would make me nod and smile. But my favourite bit of all was right at the beginning where Elizabeth has to question the children next door while they are bouncing on a trampoline ("Have you...seen a...big boy...in my garden?" 'synchronising her question with the appearance of their flushed faces above the garden wall')Calling a book "Not Funny Not Clever" strikes me as brave – after all it does invite snarky comments, but on this showing it definitely was both funny and clever.