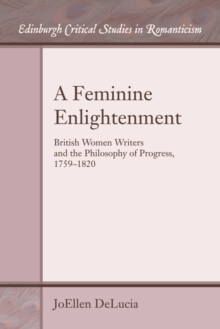 A Feminine Enlightenment : British Women Writers and the Philosophy of Progress, 1759-1820
Hardback
Description
This book revises established understandings of British women writers' contributions to Enlightenment narratives of social and historical progress.
Drawing on original archival research, A Feminine Enlightenment argues that women writers shaped Enlightenment conversations regarding the role of emotion and gender in the civilizing process.
From the letters and poetry exchanged between first and second generation Bluestockings and Scottish literati in the mid 18th century to the gothic and historical novels of the early Romantic era, the study tracks women writers' contributions to theorizing the civilizing process.
It demonstrates that the conversations in the Bluestocking salons of the 1760s and 1770s restaged and often anticipated the theories of sociability and sentiment developed by Scottish literati such as Adam Smith and James Millar. Likewise, Catherine Talbot's and Anna Seward's Bluestocking poetry, which was inspired by James Macpherson's Ossian poems, tested alternative relationships between historical progress and the cultivation of emotion. It also shows that Scottish theories of progress exerted a shaping influence on Ann Radcliffe's gothic novels and Maria Edgeworth's historical fiction.
Their novelistic explorations were informed, suggests the author, by their own readings of the comparative studies of progress that they found in Scottish poetry and historiography.
It establishes the centrality of gender to Enlightenment discussions of social and historical development.
It uncovers evidence of women writers' participation in the Scottish Enlightenment's theorization of sentiment and historical progress.
It provides literary and historical background for ongoing discussions of the history of emotion and the study of affect.
Other Formats
Paperback / softback from £16.15
Free Home Delivery
on all orders
Pick up orders
from local bookshops