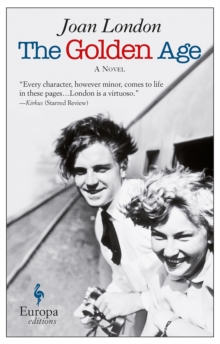 The Golden Age
Paperback / softback
Description
Thirteen-year-old Frank Gold's family escaped from Hungary and the perils of WW2 to the safety of Australia, but not long after their arrival Frank is diagnosed with polio.
Sent to a sprawling children's hospital called The Golden Age, he finds Elsa, the most beautiful girl he has ever seen, and a vocation for poetry.
Frank and Elsa fall in love, fuelling one another's rehabilitation and facing the perils of polio and adolescence hand in hand.
Meanwhile Frank and Elsa's parents must cope with their changing realities.
Margaret, who has sacrificed everything to be a perfect mother, must reconcile her hopes and dreams with her daughter's illness.
Frank's parents are isolated newcomers in a country they don't love.
Ida, a renowned pianist in Hungary, refuses to allow the western deserts of Australia to become her home, while her husband Meyer slowly begins to free himself from the past and find his place in the Perth of the early 1950s.
From the closed wards of The Golden Age narratives spin out, overlaid and assembled so to link disparate characters, milieus, generations and their respective fates.
A moving story about transition between illness and recovery, childhood and maturity, life and death. "A universal meditation on nostalgia and hope, belonging and exile, love and loss, old world and new." — The Australian "The Golden Age serenely affirms the goodness in people and the divinity of the connections between them." — The Sidney Morning Herald"The Golden Age is London's most accomplished and keenly felt work to date...
Her affection for her characters may be contagious." — The Australian"The Golden Age carries the quiet assurance of a classic, which it will most certainly become." — Sydney Review of Books
Information
Format: Paperback / softback
Pages: 256 pages
Publisher: Europa Editions
Publication Date: 18/08/2016
ISBN: 9781609453329
Free Home Delivery
on all orders
Pick up orders
from local bookshops