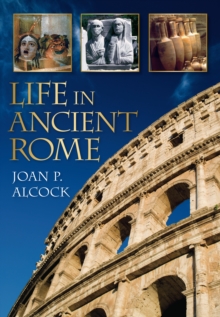 Life In Ancient Rome
Paperback / softback
Description
Ancient Rome, as a subject, has always attracted and fascinated people.
The extent of its vast empire, much of it a result of its efficient military power, was such that many Romans believed that they governed the whole world, as it was then known, and that its was their right and destiny to do this.
That empire has influenced later civilisations and its classical tradition can be seen in our own day in such diverse areas as language, customs, architecture and modes of thought.
Visitors to Rome, throughout the centuries, have marvelled at its monuments and speculated on the lives of its people. This book, concentrating on life in the city of Rome in the late republic and the empire, also takes examples from Rome's provinces.
Readers will have the opportunity to gain knowledge of people through Rome's government, administration, economy and trade.
They can contemplate how ordinary Romans lived their daily lives - how they worshipped, travelled, fed themselves, entertained and were entertained.
It cannot be denied that Roman society could be a cruel one especially to those who opposed it or lived on its fringes, but it tried to establish a just and reasonable form of government for the whole of its empire.
Much of the evidence comes from the writings of those who lived in that society, one in which they were proud and honoured to be a citizen of Rome.
Information
Format: Paperback / softback
Pages: 192 pages
Publisher: The History Press Ltd
Publication Date: 29/01/2010
ISBN: 9780752448008
Free Home Delivery
on all orders
Pick up orders
from local bookshops