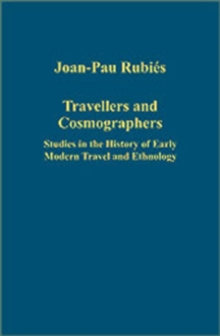 Travellers and Cosmographers : Studies in the History of Early Modern Travel and Ethnology
Hardback
Description
Joan-Pau Rubies brings together here eleven studies published between 1991 and 2005 that illuminate the impact of travel writing on the transformation of early modern European culture.
The new worlds that European navigation opened up at the turn of the 16th century elicited a great deal of curiosity and were the subject of a vast range of writings, much of them with an empirical basis, albeit often subtly fictionalized.
In the context of intense literary and intellectual activity that characterized the Renaissance, the encounters generated by European colonial activities in fact produced a remarkable variety of images of human diversity.
Some of these images were conditioned by the actual dynamics of cross-cultural encounters overseas, but many others were elaborated in Europe by cosmographers, historians and philosophers pursuing their own moral and political agendas. As the studies included here show, the combined effect was in the long term dramatic: interacting with the impact of humanism and of insurmountable religious divisions, travel writing decisively contributed to the transformation of European culture towards the concerns of the Enlightenment.
The essays illuminate this process through a combination of general discussions and the contextual analysis of particular texts and debates, ranging form the earliest ethnographies produced by merchants travelling to Asia with Vasco da Gama, to the writings of Jesuit missionaries researching idolatry in India and China, or thinkers like Hugo Grotius seeking to explain the origin of the American Indians.
Information
Format: Hardback
Pages: 444 pages
Publisher: Taylor & Francis Ltd
Publication Date: 28/10/2007
Category: General & world history
ISBN: 9780754659365
Also in the Variorum Collected Studies series | View all