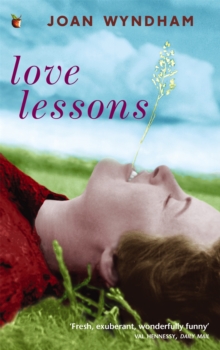 Love Lessons : A Wartime Diary
Paperback
Description
On my way to the studio there was an air-raid. I ran into the brick shelter in the middle of the road.
There were poor little Leonard and Agnes sitting on their suitcases, having lost their all. Luckily Leonard had been wearing his best trousers at the time.
Madame Arcana was there too wearing a gold brocade toque and a blanket. It was bloody cold and I wanted to pee badly, but couldn't. Leonard wouldn't give me his seat as he believes in the equality of the sexes, so I sat on the floor...'August 1939. As a teenage Catholic virgin, Joan Wyndham spent her days trying to remain pure and unsullied and her nights trying to stay alive. Huddled in the air-raid shelter, she wrote secretly and obsessively about the strange yet exhilarating times she was living through, sure that this was ' the happiest time of my life'.
Information
Format: Paperback
Pages: 272 pages
Publisher: Little, Brown Book Group
Publication Date: 01/11/2001
Category: Autobiography: general
ISBN: 9781860498770
Free Home Delivery
on all orders
Pick up orders
from local bookshops
Reviews
Showing 1 - 1 of 1 reviews.
Review by 2chances
16/06/2015
I've always thought that if I were say, 17, and keeping a journal during apocalyptic times, it would probably have lengthy passages that bemoaned the fact that I got my period TWO DAYS EARLY and stained my best white jeans and oh, by the way, NYC was wiped off the map today. Well, Joan Wyndham really did keep that journal, bless her. Like this: "After Jo had gone, I looked at my flushed face in the glass, and tidied my hair, thinking what an awful tart I am. There was a terrible love-bite on my cheek, so I got a pin and made a few scratches across it, and told Mummy a cat had scratched me, but I don't think she believed me. Later we listened to a very stirring speech by Churchill about "blood, toil, sweat, and tears." YOU SEE? What's important when you're seventeen (or, probably, eighty) is what you did with the cute guy, not Churchill's undying oration. Joan's diary is absolutely charming, written with a self-deprecating wit and charm that belies her years. Note: This book is very hard to find. If it's not in the library, I think you may have to order it online...Thanks, Jenny!