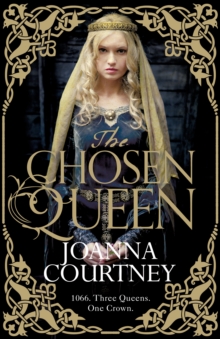 The Chosen Queen
Hardback
Description
He looked like a king that day, Harold. Even in a simple bridegroom's tunic of darkest green he looked like royalty as he stepped up to take the Lady Svana's hand.
There was no gold in sight, just flowers; no parade of bishops, just a smiling monk in a sack-robe and bare feet.
There was no betrothal contract, no formal prayers, no exchange of lands or elaborate gifts, just the linking of hands joining two people for a year and a day.
Edyth had said nothing but it had seemed to her then that Harold glowed when he was with his handfast wife and it was that glow, more than any gold or land or title, that drew people to him. 'Love prefers to be free,' Svana had said and Edyth had carried that with her ever since.
It had been her ideal, lit up by firelight and scented with meadow grass, and now, on the brink of womanhood, she craved such a passion for herself.
The Queens of the Conquest trilogy 1066. Three Queens. One Crown. As a young woman in England's royal court, Edyth, granddaughter of Lady Godiva, dreams of marrying for love.
But political matches are rife while King Edward is still without an heir and the future of England is uncertain. When Edyth's family are exiled to the wild Welsh court, she falls in love with the charismatic King of Wales - but their romance comes at a price and she is catapulted onto the opposing side of a bitter feud with England.
Edyth's only allies are Earl Harold Godwinson and his handfasted wife, Lady Svana. As the years pass, Edyth finds herself elevated to a position beyond even her greatest expectations.
She enjoys both power and wealth but as her star rises the lines of love and duty become more blurred than she could ever have imagined.
As 1066 dawns, Edyth is asked to make an impossible choice.
Her decision is one that has the power to change the future of England forever ...The Chosen Queen by Joanna Courtney is the perfect blend of history, fast-paced plot and sweeping romance with a cast of strong female characters - an unforgettable read.
Information
Format: Hardback
Pages: 416 pages
Publisher: Pan Macmillan
Publication Date: 07/05/2015
Category: Historical romance
ISBN: 9781447281900
Other Formats
Paperback from £7.09
EPUB from £3.59
Free Home Delivery
on all orders
Pick up orders
from local bookshops
Reviews
Showing 1 - 2 of 2 reviews.
Review by Carpe_Librum
27/01/2016
The Chosen Queen of the title is Edyth and the year is 1055, a decade before the Norman invasion of England in 1066, and yes, William the Conqueror.Edyth is the granddaughter of Lady Godiva and dreams of marrying for love, but times were different 950 years ago and more often than not, women were married for political and monetary gain.Edyth's father is close to King Edward (now known as Edward the Confessor), but after an angry outburst the family is exiled to Wales and the novel really takes off.I read The Chosen Queen quite soon after the latest Philippa Gregory novel and I was a little worried this might pale in comparison, but I'm pleased to say it wasn't the case. Joanna Courtney manages to guide the reader through a turbulent time in the history of Wales and England with a tight, fast-paced plot and a hint of romance throughout.Similar to Gregory, Courtney has chosen (see what I did there?) a strong female character from history in Edyth as her protagonist, and we are privy to her inner thoughts during her rise in power and influence. Lady Svana is Edyth's closest friend however their friendship is complicated and at one point they even find themselves on opposing sides. The loss of human life in battle after battle is deeply felt by the two women and Courtney has captured the times very well.The Chosen Queen is a standalone but also the first in The Queens of the Conquest trilogy, and I recommend it to readers who enjoy historical fiction by Philippa Gregory, Elizabeth Chadwick or Jean Plaidy.* Copy courtesy of Pan Macmillan Australia *
Review by Sarah_Gruwell
27/01/2016
I remember reading about Edyth as a kid in Morgan Llewelyn's Wing From Hastings. I was really young and so only remember vague impressions, like remembering that Harold was a big bully and her brothers were toads. It was a real treat to re-visit this era and these people specifically to get another look at them.For a debut novel, this author has done a fantastic job. She took a lot of time in her world building and research of details. The reader gets a real sense for the sights, sounds, and smells of late Anglo-Saxon England and wild Wales. The intense political situation the characters found themselves in was thoroughly explored and made for suspenseful reading. I also was very fascinated by all the details on hand fasting vs traditional Roman religious weddings and the differences thereof.All the characters and their various relationships made for enthralling reading. To see Edyth, Harold, and all the others come alive again was a real treat. The author gives them real depth of emotion, personality, and understanding. I especially liked Edyth and her understanding of the various political situations and her place in them. Being married to two men who are enemies and the particular situation with Harold/Svana showed her maturity and clear thinking. I also liked how real she felt in her sensual nature and curiosity, like any other girl/woman her age.Altogether, I feel that this is a robust start of Joanna Courtney's new trilogy and total career. She tells a great story, gets the historical details right, and makes her characters and their relationships breathe with depth and realism. I definitely look forward to more works by her; I feel she's going to be among the greats for me.
Also in the Queens of Conquest series | View all