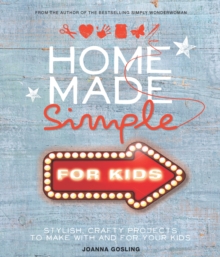 Home Made Simple for Kids : Stylish, Crafty Projects to Make with and for Your Kids
Hardback
Description
Want some original, stylish and inexpensive projects to make for your children's rooms?
Want to get creative (and a bit messy!) with your kids?
Help is at hand with Joanna Gosling's guide to simple, stylish crafting.
Divided into 2 sections it covers: Inspirational projects to make for the home, to tame the inevitable and unavoidable clutter that comes with kids including Rolling Storage Boxes, a Butterfly Coat Hanger, a Simple Quilt and a Starry Night Wall.
Great ideas for days when bad weather means the kids are cooped up inside, such as a Knitted Monkey Bear, Homemade Hand Stampers, Embossed Tin Can Badges and Flower-imprinted Clay.
Whether you want practical ideas for making your home look less like a children's playground, or some inspiration for getting your kids away from the TV for 10 minutes, Home Made Simple for Kids provides the answer. Perfect for children aged 5-11 years.