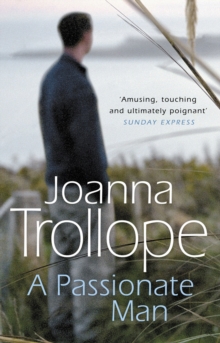 A Passionate Man
Paperback
Description
The Logans were an enchanting and admirable couple.
Archie had snatched Liza from her own engagement party to someone else, wooed her, swept her off to his father in Scotland, and finally married her.
Now bedded firmly into country life - three children, Archie the village doctor, Liza a teacher, everything comfortable, funny, affectionate - they awaited the arrival of Archie's father, the brilliant Sir Andrew Logan, a widower for over thirty years.
When his city-clean Rover stopped in the drive, Sir Andrew was not alone.
Beside him was a golden lady in caramel suede, a warm, witty, desirable widow whom everyone - except Archie - adored at once.
Archie saw his father's mistress as the worm in the bud of his perfect life - a life that was to be wrenched apart before he and Liza could re-create their world.
Information
Format: Paperback
Pages: 288 pages
Publisher: Transworld Publishers Ltd
Publication Date: 18/07/1991
ISBN: 9780552994422
Free Home Delivery
on all orders
Pick up orders
from local bookshops
Reviews
Showing 1 - 3 of 3 reviews.
Review by MuseofIre
16/06/2015
Trollope's specialty seems to be close readings of intricately tangled relationships. Her characters are vivid, their POVs nuanced, and their interactions telling. Unfortunately, I thought Liza got rather cheated in the infidelity department (her husband Archie gets to have an affair, she doesn't), the change of Archie from golden boy to screwup is too sudden to be convincing, and the whole resolution is unsatisfying.
Review by nocto
16/06/2015
I've read Joanna Trollope's novels for years and generally think I liked the earlier ones more than the later books. When I was adding all my reading & book records to Goodreads & LibraryThing recently I was surprised to find this book popping up as unread as I thought I had read all of the earlier books at least. I expected to suddenly remember the story part of the way through and realise that I had read it before but I'm pretty certain this one was new to me. Or completely forgotten which is just as good!Despite reading all of them I always start off these books thinking they are going to be rubbish... they are full of characters who appear at first glance to be rather stereotyped examples of the upper middle classes, people with big houses, good jobs, stable relationships, long family histories verging on the aristocratic, perfect children effortlessly kept in private schools etc. But what I enjoy is that things are never quite as they seem and that Trollope plays with the stereotypes and rather makes fun of her characters along the way. She nearly always writes about women and despite the title this book is mostly about the women surrounding the men. I never did figure out which man was supposed to be the passionate one, there are two obvious possibilities as far as I can see; and Liza Logan, wife of one of them, and daughter-in-law of the other was a far more interesting character than either. Published in 1990 this feels rather like a period piece now.
Review by SueinCyprus
02/03/2016
An excellent picture of village life, and great observations of the stresses and tensions that can arise in even the happiest of families. Emotional in places, amusing in others, and somewhat thought-provoking. Recommended.