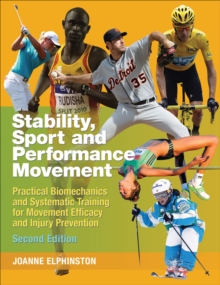 Stability, Sport and Performance Movement : Practical Biomechanics and Systematic Training for Movement Efficacy and Injury Prevention
Paperback / softback
Description
In every sport, there are athletes who represent true technical excellence.
Their movement seems effortless and efficient: they create and control forces in the most effective way. Functional force management, the foundation for effective sporting movement and injury resistance, results from the integration of stability, mobility, coordination and balance.
These elements combine to prevent the physical restrictions, imbalances and inefficient muscle recruitment patterns which can block athletes from meeting their movement goals.
The right muscles firing at the right time and in the right sequence can enable athletes to achieve their full physical potential. Full of colour photographs and images to illustrate the techniques and theories involved, Stability, Sport, and Performance Movement introduces functional stability principles as they apply to sporting movement.
A comprehensive chapter on movement testing is followed with four chapters of integrated exercise techniques, which clearly demonstrate form and progression from early activation through to higher-level neuromuscular drills.Programmes and clinical examples help the reader to appreciate the application of this approach across a variety of sports. It is an approach that has been used with international-level athletes in disciplines as diverse as swimming, badminton, gymnastics, karate, cycling, weight lifting, basketball, athletics, snow sports, football, golf, equestrian sports, and tennis.
Effective movement starts with great foundations, and these are applicable and relevant across all age groups and ability levels, from beginners through to veterans.
Information
Format: Paperback / softback
Pages: 384 pages, illustrations (colour & black and white)
Publisher: Lotus Publishing
Publication Date: 31/07/2013
Category: Biomechanics, human kinetics
ISBN: 9781905367429
Free Home Delivery
on all orders
Pick up orders
from local bookshops