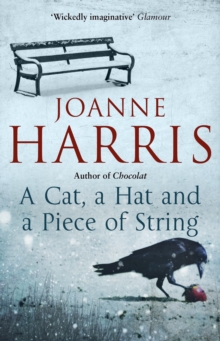 A Cat, a Hat, and a Piece of String
Paperback
Description
Stories are like Russian dolls; open them up, and in each one you'll find another story.
Come to the house where it is Christmas all year round; meet the ghost who lives on a Twitter timeline; be spooked by a newborn baby created with sugar, spice and lashings of cake.
Conjured from a wickedly imaginative pen, here is a new collection of short stories that showcases Joanne Harris' exceptional talent as a teller of tales, a spinner of yarns.
Sensuous, mischievous, uproarious and wry, here are tales that combine the everyday with the unexpected; wild fantasy with bittersweet reality.
Information
Format: Paperback
Pages: 288 pages
Publisher: Transworld Publishers Ltd
Publication Date: 16/01/2014
ISBN: 9780552778794
Free Home Delivery
on all orders
Pick up orders
from local bookshops
Reviews
Showing 1 - 1 of 1 reviews.
Review by DaptoLibrary
27/08/2015
This month our club decided to read a selection of Joanne Harris novels and share our thoughts and opinions on her style and story lines. This is an interesting exercise, as the discussion can lead to a curious and fascinating look into an author's writing technique. Cheryle and Delia read Five Quarters of the Orange and enjoyed its strong story line and well developed characters of German occupated France. The setting of France is a frequent backdrop in Harris's novels. Sandra, who read Lollipop Shoes set in Paris, thoroughly enjoyed this sequel to Chocolat and as she will be visiting Paris soon, was really taken with the location.Kathy read Peaches for Monseiur Le Cure, the third novel in the Chocolat saga and found it very interesting. Harris tackled the muslim issue in today's France for her ever present conflict theme. Something we all recognised as a common thread in her story lines. Sandra (No. 2) chose Harris's collection of short stories, A Cat, a Hat and a Piece of String and found it very enjoyable. She is a lover of short stories and although not all of them were to her liking, she did find it a worthwhile read. There are links to her novels scattered throughout, and we found one with Blueeyedboy, a tale of the computer generation and what it means to be anonomous in this day and age. Quite removed from her usual theme, Blueeyedboy is a distrubing story of mental health and the isolating of individuals through on-line communties. If you are a lover of Harris and her French connection, you are unlikely to take to BEB, nevertheless, curiousity may get the better of you, as it did with Cheryle, who decided to give it a try. Discovery through reading should always be encouraged and we look forward to hearing what she makes of it.