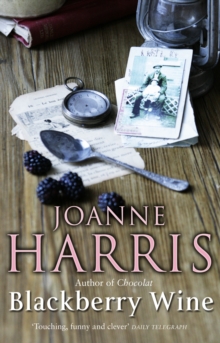 Blackberry Wine
Paperback
Description
Jay Mackintosh is trapped by memory in the old familiar landscape of his childhood, to which he longs to return.
A bottle of home-brewed wine left to him by a long-vanished friend seems to provide the key to an old mystery.
As the unusual properties of the strange brew take effect, Jay escapes to a derelict farmhouse in the French village of Lansquenet.
There, a ghost from the past waits to confront him, and the reclusive Marise - haunted, lovely and dangerous - hides a terrible secret behind her closed shutters.
Between them, a mysterious chemistry. Or could it be magic?
Information
Format: Paperback
Pages: 336 pages
Publisher: Transworld Publishers Ltd
Publication Date: 03/03/2000
ISBN: 9780552998000
Free Home Delivery
on all orders
Pick up orders
from local bookshops
Reviews
Showing 1 - 5 of 6 reviews.
Previous | Next
Review by picardyrose
16/06/2015
Really lovely story about a failed author who runs away to France to create the chateau of an old man's dreams.
Review by OhSnap
16/06/2015
I really enjoyed this book and I'm looking forward to read more of Joanne Harris's books as I loved the way she wrote them. I got so absorbed in the writing and the story and I think this is partly to do with the magical setting - a tiny French village called Lansquenet. It really made me want to move to a village in France and sit around in the sunset drinking wine. I also really liked the way the two stories of the main characters childhood and present life were interwoven as it added variety that kept the pace of the novel moving.The book was effortless. Some books I have read, although the language and use of words was really clever and well thought out, just seemed like a chore to read through at some points. This book has all the beautiful language and descriptions but you don't feel like it is contrived in any way. It is not written so that you notice the intelligence of the author in writing this in that way - the beauty of it is that all the story telling language comes together to create a mood and atmosphere of the book that is much more enjoyable to read.I really hope that Joanne Harris's other books are just as good - if not better as she is set to become one of my favourite authors.
Review by BudaBaby
16/06/2015
Folksy story of a frustrated writer coming to terms with eventsfrom his past. A bottle of wine is a sometimes narrator.
Review by unlikelyaristotle
16/06/2015
What can I say? I don't drink, but this book makes me want to. You have to be a certain brand of author to be able to talk about the taste and textures of foods and drinks throughout a whole book (actually several, since she did Chocolat as well), but Joanne Harris does this effortlessly, and most importantly for me, without repetition. Maybe it is too easy to sound charming when talking about an adorable French village with all its inherent quirks and tales, but Harris is able to portray atmosphere, ambience, call it what you will, but you can immerse yourself in a book like this as easily as if it were the wine that gave the book its name. And it's the kind of book I feel people with all kinds of book preferences can enjoy.
Review by RefPenny
16/06/2015
This book contains 2 parallel stories - that of Jay as a teen and later as a one-hit author who, on a whim, buys a property in France. What both stories have in common is Joe - a kind friend to the teen, subject of the acclaimed novel and still present (in spirit not flesh) prompting and advising the adult Jay. Another winner from Joanne Harris.