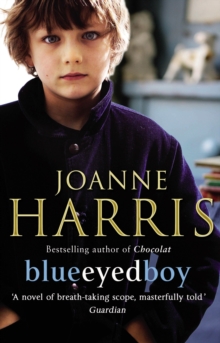 Description
'Once there was a widow with three sons, and their names were Black, Brown and Blue. Black was the eldest; moody and aggressive. Brown was the middle child; timid and dull. But Blue was his mother's favourite. And he was a murderer.'Blueeyedboy is the brilliant new novel from Joanne Harris: a dark and intricately plotted tale of a poisonously dysfunctional family, a blind child prodigy, and a serial murderer who is not who he seems.
Told through posts on a webjournal called badguysrock, this is a thriller that makes creative use of all the multiple personalities, disguise and mind games that are offered by playing out a life on the internet.
Information
Format: Paperback
Pages: 528 pages
Publisher: Transworld Publishers Ltd
Publication Date: 31/03/2011
ISBN: 9780552773164
Other Formats
EPUB from £2.99
Paperback from £10.75
Free Home Delivery
on all orders
Pick up orders
from local bookshops
Reviews
Showing 1 - 4 of 4 reviews.
Review by nordie
16/06/2015
Presented mainly as personal and public webjournal entries and fanfiction, this book presents the story of BB, growing up with his two brothers, his mother, and the local "gifted" children and teachers. It's written really well, in that you don't actually know what is real and who is telling the truth – if in fact anything you are being told is real. The way it's constructed only adds to the confusion. Has anyone actually been killed? Who killed them, when and how? Are we reading the journal entries of someone with a strange set of fantasies, or chillingly cold killer flaunting his multiple kills? Who else is lying?
Review by deargreenplace
16/06/2015
I finished reading this book this morning and I'm still not sure exactly what I think of it.Liked the format, a series of online posts by two of the main characters, some of which are purportedly "fic" - fiction. The main protagonist is one of three brothers, each of whom suffer under the brutal attention of their nasty mother. He becomes besotted with Emily White, a young blind girl who claims to hear sounds from words, just as he can detect smells from them. Both children attend sessions with Dr Peacock, who wishes to document their synaesthesia in order to further his research.We are warned from the beginning that our narrator is unreliable. Fair enough. I felt though that the author ended up tied up in twisty knots by the end of the book and I wasn't satisfied with the ending at all. The reader is left doubting everything that they've learned. I don't know if that was the point, but it didn't do it for me.
Review by Helenliz
16/06/2015
This is written as a set of supposed blog posts with comments at the end of each by others who are in the circle. And I thought it wasa really very inventive, playing a great deal on the anonimity of the internet, such that the person writing wasn't who you thought they were. The story evolved on this level such that you understood the two protagonists had both gone some way to adopting the identity of someone else. But the characters themselves and the events they described were so very unpleasant that I found it a real struggle to carry on reading it. Several times i paused in reading it for a few days and it was a real effort to pick it back up. the writing was very good, the method of stringing the story together inventive and the assumed identity really very clever. but I can't get over the fact that I really didn't enjoy what I was reading, so an OK is about the best i can offer.
Review by nancynova
16/06/2015
I bought this to read it before tagging it forward. I read only one of this author's books before and it wasn't anything like this. Very twisted. BB is in his 40's, living at home and living in an internet world. Still in his childhood town of Malbry, he has Synesthesia, which the author has also. But he has a different form than his brother - and for most of the book, you think he is his brother. But in his form, he feels the happiness and pain of others, as if it's his own. The townfolk are slowly being murdered - or are they? What is fact and what is fiction? Who really is Albertine? And his his mother the ultimate murderer in this game? Or is it all fic?