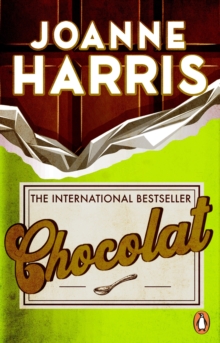 Description
When an exotic stranger, Vianne Rocher, arrives in the French village of Lansquenet and opens a chocolate boutique directly opposite the church, Father Reynaud denounces her as a serious moral danger to his flock - especially as it is the beginning of Lent, the traditional season of self-denial.
As passions flare and the conflict escalates, the whole community takes sides.
Can the solemnity of the Church compare with the sinful pleasure of a chocolate truffle?
Information
Format: Paperback
Pages: 320 pages
Publisher: Transworld Publishers Ltd
Publication Date: 01/03/2000
ISBN: 9780552998482
Other Formats
Paperback from £7.65
Hardback from £9.45
EPUB from £3.99
eAudiobook MP3 from £9.60
Free Home Delivery
on all orders
Pick up orders
from local bookshops
Reviews
Showing 1 - 5 of 16 reviews.
Previous | Next
Review by kimbabalu
16/06/2015
I saw the movie edition before reading this book, so I knew the basic plot before I cracked it open. I was pleasantly surprised that I ended up enjoying both the book and the movie. They took a few liberties when making the movie (adding the character of the Count, moving it back in time, and changing the imaginary rabbit to an imaginary kangaroo - why?), but overall kept the same tone and fairy tale quality. I highly recommend this book!
Review by Wanderlust_Lost
16/06/2015
Excellent book. Reminiscent of Ray Bradbury in the way that the winds seem to dictate the arrival of metaphysical/emotional/mysterious changes within the community/characters in the novel. Very luscious in its chocolatic descriptions but also in its pagan undertones and its portrayal of powerful women.I would suggest, however, that the author learn more about the Tarot than just the cards \"The Tower, The Devil, and The Hierophant.\"
Review by nakmeister
16/06/2015
Vianne Rocher is a confident woman with a young girl, Anouk. For all of her life Vianne has travelled around, never staying in one place for very long. However now she wants her and Anouk, her daughter, to find a place to settle down and live in. They come to the small town of Lansquenet in rural France, and rent out the old Bakery, shut for many years now. They make quite a stir in the very traditional village, not only because they don't go to Church, but also because Vianne is opening a Chocolate Shop in the village, right at the start of lent. They soon make friends, but also enemies too...This was actually my wife's book that she took with her on holiday, and she loved it so, when she finished it I started reading it. For a while I had been wanting to broaden the range of books I read, out from just Science Fiction, Fantasy and Thrillers. I found the book excellent, I couldn't put it down, completely not what I expected from such a more mainstream book. I expected it to be perhaps interesting but slow going, but I was very wrong. The writing style is great, easy to read but conveying a lot of meaning, and the characters seem so real and lifelike. The book really made me think too, and that's the sort of book I like.
Review by tjsjohanna
16/06/2015
This is a re-read for me. I found this novel rich in language, which suited the theme of chocolate! While Vianne (a great name - suggests living, which she certainly was) is such an interesting and unexpected character, I also found the character of the priest well-drawn as well. His narrow mind-set, his guilt-motivated behavior, his irrational choices all serve as a foil to the idea of Vianne as the superstitious one. Very enjoyable.
Review by BudaBaby
16/06/2015
Small town dynamics come to a head when a mysterious woman and her child move in.