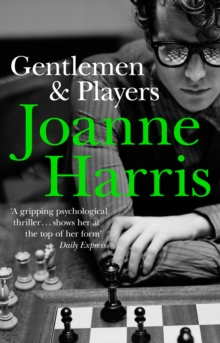 Gentlemen & Players
Paperback
Description
At St Oswald's, a long-established boys' grammar school in the north of England, a new year has just begun.
For the staff and boys of the school, a wind of unwelcome change is blowing.
Suits, paperwork and Information Technology rule the world; and Roy Straitley, the eccentric veteran Latin master, is finally - reluctantly - contemplating retirement.
But beneath the little rivalries, petty disputes and everyday crises of the school, a darker undercurrent stirs. And a bitter grudge, hidden and carefully nurtured for thirteen years, is about to erupt.
Information
Format: Paperback
Pages: 512 pages
Publisher: Transworld Publishers Ltd
Publication Date: 01/06/2006
ISBN: 9780552770026
Other Formats
CD-Audio from £13.75
EPUB from £3.99
Free Home Delivery
on all orders
Pick up orders
from local bookshops
Reviews
Showing 1 - 5 of 12 reviews.
Previous | Next
Review by gaskella
16/06/2015
They say that revenge is a dish best served cold. This is the tale of an obsession that goes very wrong, and brews plans for thirteen years before the revenger wreaks absolute havoc by opening a closet full of skeletons that brings a community to its knees. I'll say at the outset that I loved this book. It's a complex and twisty thriller with delicious moments of black humour set in a northern boys grammar school. The plot piles on layer after layer and turns at every corner, but satisfyingly just about allowed me to think I'd worked it all out – I felt very smug, and then wham! one last twist.The story is told from two viewpoints. Firstly veteran classics teacher Mr Straitley who is planning his retirement, but not until he's completed his hundredth term at St Oswalds. He's seen it all, or so he thinks, but the creeping march of technology into the classroom is leaving him behind. He's still good at staffroom politics though, and keeps on top of all the gossip. It's the first day of term – new teachers – how will they fit in?"I can usually fit any fresher into the appropriate category within a few minutes' acquaintance. The geographer, Mr Easy, is a typical Suit: smart, clean-cut and built for paperwork. The Games man, God help us, is a classic Jobsworth. Mr Meek, the computer man, is rabbity beneath his fluffy beard. The linguist, Miss Dare, might be a trainee Dragon if not for the humorous twist to her mouth; I must remember to try her out, see what she's made of. The new English teacher – Mr Keane – might not be as straightforward – not actually a Suit, not quite a Beaver, but far too young for the tweedy set."Then there is the son of one of the old school caretakers. He had to go to the local comprehensive where he was hopelessly bullied - there was no place for him at St Oswalds. He played truant, and insinuated himself into the grammar school so well, that everyone believed he was a pupil, but he has been nursing a bitter grudge, and thirteen years later its time for him to seek his revenge.So, we have the two narrators, one young and one old, and two timelines – the present and thirteen years earlier. Harris cleverly swaps between them throughout; although sections have clear breaks, you're not always initially sure who is speaking when. I love novels set in schools and combining that with a real thriller of a plot made this a winner for me. The teachers in particular were really well-drawn – you can recognise all the types – they probably taught you and I, (I had a particular candidate in mind for Mr Straitley). This is also a thriller with a great sense of humour – indeed on Harris' website, she introduces Gentlemen and Players with quotes from Molesworth – the funniest set of books about skool ever.I sped through this novel's 505 pages – it never felt long at all and it entertained throughout, I loved it.(9/10) I bought this book.
Review by Greatrakes
16/06/2015
St Oswald's public school is the setting for this brilliant comic novel. Told by three protagonists, two of whom are the same person separated by 15 years, and the other a teacher nearing retirement. The child/new teacher is, we know, the destroying angel, a psychopathic force intent on destroying the school in revenge for the destruction wreaked,by the school, on the child.The old teacher, Roy Straitley, is a dinosaur, a Classics master, being forced out by the management gobbledegookers who now run the school, the late Leo McKern, would have been a racing certainty to play him in the film of the book. As chaos breaks out, teachers are accused of terrible acts, things go missing, a pupil vanishes and the entire toppling folly crashes down, Roy Straitley gets close to the truth, but not close enough.Tremendous stuff and a great twist, as well.
Review by phoebesmum
16/06/2015
An engaging mystery set in an all-boys' private school which finds itself suddenly at war with an unknown assailant – a war whose general is the elderly Classics master, and which it seems inevitable it will lose. Very different from Joanne Harris's other books; absorbing, riveting, and clever. It's slightly marred by a plot twist which, as with almost all plot twists, most readers will see coming, but other than its chess-game theme, which is rather wasted on a non-chess player, that's really the only quarrel I have with it.
Review by rachelfroude
16/06/2015
I found this slow to start with, and then couldn't put it down until the last gripping moment.
Review by edwardsgt
16/06/2015
Well-written novel of obsession and revenge, set in St Oswald's minor (British) public school. Lots of characters which I sometimes found hard to remember, but well-observed and humorous plot with several twists.