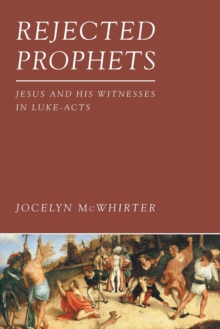 Rejected Prophets : Jesus and His Witnesses in Luke-Acts
Paperback / softback
Description
Although several scholars have written in the past about how Luke portrays Jesus and the apostles as prophets, no one has yet provided a comprehensive theory as to why Luke's main protagonists resemble Samuel, Elijah, Elisha, Moses, and Jeremiah.
McWhirter shows that Luke uses these biblical prophets as precedents, seeking to legitimate the things about which his audience has been instructed in the face of events that seem to contradict those teachings.
By the 80s of the first century, the Romans had killed Jesus, Peter, and Paul; ravaged Jerusalem; and destroyed the temple.
Many Gentiles believed in Jesus, while most Jews did not.
In order to show that all this was part of God's plan, Luke - whom McWhirter, with David Tiede and others, identifies as a Diaspora Jew - compares Jesus and his witnesses to Israel's prophets who also went to the nations and were rejected by some of their own people.
Information
Format: Paperback / softback
Pages: 128 pages
Publisher: Fortress Press,U.S.
Publication Date: 01/01/2014
Category: New Testaments
ISBN: 9781451470024
Free Home Delivery
on all orders
Pick up orders
from local bookshops
Also by Jocelyn McWhirter