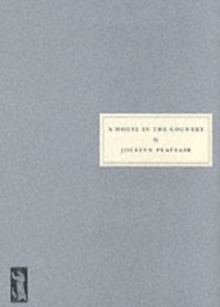 A House in the Country
Paperback
Information
Format: Paperback
Pages: 264 pages
Publisher: Persephone Books Ltd
Publication Date: 22/03/2002
ISBN: 9781903155202
Free Home Delivery
on all orders
Pick up orders
from local bookshops
Reviews
Showing 1 - 4 of 4 reviews.
Review by Kasthu
16/06/2015
A House in the Country is set in the later years of WWII. Cressida Chance is the chatelaine of Brede Manor, a manor house near the village of Brede Somervel. Cressida is a widow and mother, and the house is populated by a host of characters: a freeloading aunt, a European refugee, a young engaged couple who are horribly, horribly wrong for each other. Added on top of that is Cressida's impossibly good looking brother, an officer in the army who keeps chasing his high-maintenance girlfriend all over the country. The story switches back and forth between the goings-on at the Manor and Charles Valery's harrowing story.There's a great sense of sadness and loss about this novel that the reader feels even before we find out Cressida's background with Simon and Charles. There's also a huge sense of uncertainty. The novel was written at a time in the war when nobody knew what was going to happen, and the war literally hits close to home at one point in the book with the air raid on Brede Somervel.As I've said, there's a feeling of sadness to this book and the characters in many places become philosophical about what's going on around them. War is a constant in these people's lives. As you might imagine, Cressida and her fellows are a little bit war-weary—but maybe optimistic? I sometimes got bored in these parts, but I enjoyed watching the contrast between life at the manor and the lifeboat scenes. In all, this is an excellent war-themed book, scary in describing the impact that the war had on everyday English people.
Review by Liz1564
16/06/2015
The house in the title is Brede Manor, a perfect country house managed by Cressida Chance while the owner is serving in World War II. Charles Valery put Brede in her capable hands because it offered a home for her and her young son and because he loved her. And Cressida does the beautiful house proud, caring for each room and the valuable museum-quality contents. But Brede is no museum. Far from it. Cressida has opened her home to boarders; a refugee from a Nazi-occupied country, a young couple whose home was destroyed in an air raid, soldiers who needed billets in the area. I found Cressida a wonderful character, but almost too good to be true. As she copes with the difficulties of war she is contrasted with those who are not so tolerant. There is the woman who owns the rose-covered fairy tale cottage who refuses common soldiers and would consider officers only for her spare rooms. Cressida's London aunt acts as though the war was fought just to put obstacles in her life. How difficult it is to cope with only one servant,,,first class compartments on the train are filled with soldiers carrying all manner of bundles...and does Cressida really cook the meals for the household....how quaint to eat in the kitchen.Meanwhile, yet unknown to Cressida, Charles Valery's ship has been torpedoed and he is the lone survivor. As the days pass and the provisions in the lifeboat dwindle, he ponders the questions of war, society, change and death. Why must wars be fought over and over again? Why is there such a disparity between the rich and poor, the educated and the uneducated? Why can't society get it right?Playfair comes down hard on the selfish-centered middle class and gentry who want nothing to change. Brede Manor is the safe haven because Cressida judges people on their merits, not their social status or their wealth. And so, the domestic side of the novel illustrates the strains of Charles' thoughts. I enjoyed the novel, but I felt the author was a little too heavy-handed in inserting her personal philosophy in her story. Post a new comment 0 comments
Review by kaggsy
16/06/2015
This is a remarkably good novel about the way war affects those who are fighting and those who have to stay at home and ensure. The contrast between the two types of war is beautifully written by Playfair who, although she does not go into detail about the horrors, gives us enough to imagine what is going on. As other revieweres have stated, there is a great deal of philosphising about the effects of the war, but I didn't find this dragged at all. I would certainly recommend the book to anyone who wants to understand what it must have been like to live through war and the effect it has on ordinary folk at home. The death of Northeast's wife was heartbreaking and an excellent illustration of the suffering of non-combatants in times of conflict. A belated well done to Persephone for bringing this book back into print.
Review by starbox
16/06/2015
'...for themselves, personally, the war seems to mean practically nothing', June 12, 2014This review is from: A House in the Country (Paperback)Written in the middle of the Second World War, this is the story of Cressida Chance; living in beautiful Brede Manor, she takes in 'paying guests' - a charitable act rather than a money-spinner when housing was in short supply. Cressida has no time for her neighbours who continue their selfish pre-war lives, arguing with one about paying guests:"I said did she suppose these nice, shy young men liked walking up to private houses and asking for rooms, and being made to feel like commercial travellers or even confidence men, and did she realise that it might be the only chance some wretched couple might have of living together. I'm afraid I even said it might be the last few weeks of any of their lives."The most outstanding of the guests is Tori, a central European refugee who has undergone horrors abroad, and who engages Cressida in some noble and idealistic conversations on war and Christianity. In complete contrast is Cressida's utterly self-centred elderly Aunt Jessica, who comes to stay.Interspersed with their lives, we follow Cressida's long-absent lover, Charles, as he is lost at sea after his ship is torpedoed...Ms Playfair writes quite beautifully:'Yes, there are the cabbages, she thought, in neat rows, and a pie in the oven, and a thousand bombers going out in a night; five or six thousand highly trained young men with nervous, useful fingers, good at mending wireless sets, playing the piano, tinkering with cars and leaking roofs, doing endless, fiddling invaluable jobs...''Life goes on and on. The cabbages stand in rows and somewhere men are clutching at wreckage in wild seas with oil burning on the water. the trains are full of men reading their newspapers, and somewhere old men and women are being driven in herds away from their homes, sleeping in the cold under trees, hiding in cellars and jungles.'But I found Cressida - that calm, beautiful, wise 37 year old, beloved by all - somewhat hard to warm to. And the last couple of chapters which contain more splendidly noble sentiment than the rest of the book put together, were just too much and spoilt what had been a fairly good novel.