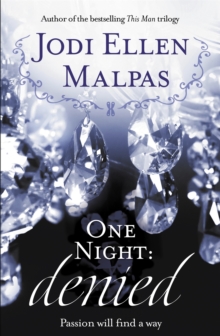 One Night: Denied
Paperback
Description
The latest addictive installment of the year's hottest trilogy from international bestseller, Jodi Ellen Malpas.Jodi took the nation by storm with Jesse and Ava in her This Man novels.
Christian Grey has just found a new wave of admirers in the Fifty Shades of Grey movie.
Could there be a man to match these men?Meet Livy and her mysterious 'M'.
Aloof, addictive and intriguing - ever since he offered her 24 hours of adoration and satisfaction, M has turned Livy's life upside down.
It seems they both have secrets - and following their hearts will risk everything.
Passionate, authentic and utterly gripping, this brand new novel will be a must-read for all of Jodi's devoted fans as well as readers of Sylvia Day, J.
Kenner and anyone who needs to escape from the day-to-day with a love affair that will take your breath away.
Information
Format: Paperback
Pages: 432 pages
Publisher: Orion Publishing Co
Publication Date: 06/11/2014
Category: Romance
ISBN: 9781409155683
Free Home Delivery
on all orders
Pick up orders
from local bookshops
Reviews
Showing 1 - 3 of 3 reviews.
Review by B.J.O.
16/06/2015
*In an effort to avoid spoilers for Book 1, One Night Promised, for those who have not yet started this series, I omitted from my review my usual description of the background setting of this story. Please refer to my review for One Night Promised for the background. Please also note that One Night Promised must be read before this book.*"4.5 Forbidden Love Stars* After One Night Promised rocked my world with its sexy, psychologically intense and suspense filled plot, I just knew I had to read One Night Denied. I voraciously read this long, 448 page second part, in just two nights. I very much enjoyed the emotionally and erotically charged nature of this read, but still it wasn't quite as intense or intricately twisted as Book 1. Perhaps because the hero, and to a lesser extent the heroine, is in transition in this second part to the One Night Trilogy.Although in Book 1, "M" was full of contradictions, you still mostly got a glimpse of his controlled, arrogant shield of a persona. In One Night Denied, Miller's defensive walls are starting to slowly, crash down, making him dangerously unbalanced and prone to massive, dangerous mood swings. He is a deeply conflicted man. Wanting his "possession" but wavering between protecting and worshiping "it." This, in turn, leaves the reader and Livy somewhat in limbo. Sometimes you get the feeling that it's one step forward and two steps back. Livy too is changing. In some respects, she is adopting some of Miller's "habits" as their worlds are slowly converging. Leaving you to ponder whether this is really a good or bad thing. Is Livy being naive or courageous in her resilient fight for the man she loves? Is Livy truly capable of bringing "light" to Miller's "darkness" or does happiness and true feeling lie somewhere in between?The suspense aspect of this read was also well done, although less heart stoppingly shocking. Following the big reveal of Miller's profession in Book 1, and his acquaintance with William, which were earth shattering revelations, you are left in Book 2 with a trickling of small clues as to Miller's past, Livy's mother's past, who Miller truly works for and the true danger that lurks in wait. These are small tells in comparison, but nonetheless enlightening. You certainly get the feeling that there are still a number of twists and turns that have not yet been revealed, and which will no doubt make the final installment of the One Night Series, Unveiled--set to be released in January of 2015--a must read! Will this tortured hero and the once unfeeling heroine get their HEA? I, for one, can't wait to have all the truths and final destinies "unveiled"! Source: Review copy provided by the publisher via NetGalley in exchange for an honest review.
Review by Deserie.Comfort
27/08/2015
ABOUT THE BOOK:He's amazingly wealthy, sinfully gorgeous, and can bring her to heights of pleasure she's never before known. For Livy, there's no turning back. She's determined to be the light in Miller Hart's dark world. Yet this new life comes with a steep price... Miller knows that the power he possesses hasn't come without sacrifices-but he won't let Livy be one of them. Though he wants nothing more than to have her in every way, his first duty is to protect her at all costs...from his sins, his enemies, and especially himself.But as their insatiable affair intensifies, the two attract the attention of an obsessive-and dangerous-third party. Discovering new revelations about Miller that rock her to the core, Livy will have to decide whether he's ruined beyond repair. And he must face his fear that in order to save her, he may have to lose her after all...MY REVIEW: 2 STARSI have to admit, I couldn't put the first book in this series down. This second one, though? It drove me insane. I skimmed several pages and paragraphs at a time, and was frustrated to all hell at the actions of both of these characters. I genuinely rate books higher than most other reviewers because I know the hard work and dedication that goes behind writing a story, but I couldn't, under any good faith or reason, really understand what the author was trying to convey in this book in the series. I found the decisions made by both characters unreasonable and a bit dramatized. They were deciding on things that went against everything we had already learned about them, and it was tough to watch it play out, because I had to wonder several times if I was reading a different book from the first. I don't want to give spoilers, and I loathe leaving not the best of review, but this one just felt shy of the mark for me.
Review by Chicalicious
27/08/2015
After Livy fled from "M" after there episode in the last book she's determined to stay away from him. He's not the man she thought he was. "M" isn't prepared to give up so easily though. He needs Livy in his life - so he decides to play dirty and show up at her grandmother's house. Determined to change himself slightly from what he is, and to keep Livy on side, he humours Livy by allowing her to take him to a picnic and try on casual clothing. Livy is unaware that darker forces are at work and it's not as simple as just changing one of his masks, aka his suits. Can Livy get to the truth before it's too late and can Miller protect what is his?This book was just one long bore. There wasn't much of a storyline to it and what little storyline there was was just meh. The only good part was the last 20 odd pages where it eventually picked up and some life was thrown in to it. In between the not so exciting repeated drama of Livy telling Miller she hates him and Miller claiming she's his is a whole load of unimaginative, boring sex. I mean A LOT.The characters get so much worse in this book. Where is Olivia's dear, old, humorous grandmother? Livy is getting more and more volatile and indecisive. One moment she wants nothing more to do with Miller and is pushing him away and then the next she's fumbling with his belt like a woman possessed. Miller is more possessive of Livy, more mercurial and a whole lot more violent. He wants to change but he's just a crazed, sexed up animal. Livy has watched Miller pummel her best friend twice and during it only seems concerned for Miller. It seems to be wrong to care for a friend who's in a relationship with a psycho. Livy does just that when she pushes Gregory, the best friend away, for caring. I was quite fond of William, her mother's ex pimp. He seemed genuine and like he actually cared for Livy. Livy couldn't see this though because it's all about MILLER!Miller repeating over and over again how Livy is his "habit", how he wants to "worship" her and that he can only be the one to "taste" her were driving me insane. It isn't CUTE; it's verging on ridiculous. Oh, and don't even get me started on there "thing". After the first book it just got old. It's just cuddling, for crying out loud, call it what it is. I also couldn't stand the way he'd grab her by the nape of the neck and lead her EVERYWHERE like she's some goddamn dog, and that she willingly allows him to.Miller was way creepier in this book than the first. He creeps into her bedroom in the middle of the night, strips her and then gives her their "thing". CREEPY! If that wasn't bad enough he knowingly has unprotected sex with Livy and doesn't tell her until she finds out. His reasoning? So she'd go onto the pill. I'd have shown the man my right hook and I'd like to think many women would do the same. Not Livy though. She smiles sweetly and agrees to whatever her master commands like the obedient, subservient, little kitty that she is. Then there was Livy's "sass". I'm not sure we could have come up with many more ways to say sass. we get it, she's sassy! I didn't think she was all that sassy, but whatever!I loved the ending. It was the best thing about the whole book and that is the only reason I gave it 3 stars as opposed to the 2 I was going to give it. If it wasn't for the drama and the action in the ending this whole book would have been flat. I'm not sure what I make of the cliffhanger. It makes sense to end it there but it didn't half drive me insane.
Also in the One Night Series series | View all