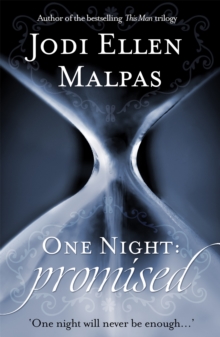 One Night: Promised
Paperback
Description
You've read E L James, you've seen the Fifty Shades movie, you adored This Man...now meet the hottest new trilogy...Livy notices him the moment he walks into the coffee shop.
He's heart-stoppingly stunning, with a blue-eyed gaze so piercing she's almost too distracted to take his order. When he walks out the door, she thinks she'll never see him again.
Then she finds the note he left on his napkin . . . signed M.All he wants is one night to worship her. No feelings, no commitment - nothing but pleasure. Every defense mechanism Livy has adopted during her solitary life is at risk of being obliterated by this confounding man.
He's obnoxious but well-mannered. He's a gentleman but aloof. He's passionate but emotionless. Yet the fascination is so powerful, Livy can't deny him...or herself.M awakens something in Livy, something deep and addicting that she never knew existed-and that she fears only he can satisfy. But she senses that behind the fast cars, fancy suits, and posh apartment, he's aching inside. To have him, body and soul, she'll have to brave his dark secrets. Delving into his world and breaking down his defenses becomes her obsession - an obsession that could shatter her heart beyond repair...
Information
Format: Paperback
Pages: 416 pages
Publisher: Orion Publishing Co
Publication Date: 17/07/2014
Category: Romance
ISBN: 9781409155669
Free Home Delivery
on all orders
Pick up orders
from local bookshops
Reviews
Showing 1 - 1 of 1 reviews.
Review by Chicalicious
27/08/2015
Olivia, a sweet but broken beauty, works at a coffee shop by day and by night is at home with her grandmother making sure she is okay. Determined to be nothing like the mother who abandoned her as a young child Olivia avoids men and love at all costs - she really has no interest what-so-ever. This all changes when a mysterious, arrogant and beautiful man in a suit walks into the coffee shop, introducing himself merely as "M", catches her attention. He wants something from her. He wants one night. A night that involves no feeling, no commitments just utter adoration and pleasure like she's never experienced it before. But Livy wants more, a lot more, because the aloof man she's falling for makes her feel alive.I'm not entirely sure what to make of this book. Did I love it? No. Was I disappointed by it? No. I started off really enjoying it but the further into the book I got the more I started losing some of that enjoyment. There is no denying that Ms. Malpas has a way with words and her writing style is definitely something you could fall in love with.I didn't like the characters well not all of them. The minor characters in Olivia's life, especially her humorous, old grandmother, were great. I say they were great because they were when you compare them to the antagonists. Olivia was exceptionally immature. She found great pleasure in doing things my five year old nephew enjoys doing to wind people up - not listening, being rude, the list could go on. As for the aloof "M" he had his own problems. He was a walking, talking contradiction with serious issues. He's arrogant, self-conceited and egotistical and by no means in a good way. Who leaves a person in their bed at 3 in the morning to do "business"? I hated how they both kept getting Olivia's grandmother's hopes up of Olivia finally finding a man and getting out and about more instead of cooped up indoors. I'm not sure what to make of the point when "M" wants Olivia to go on birth control so that he doesn't have to use condoms anymore - especially when you consider his line of business. It just shows how much of a selfish jerk he is.I can't believe Olivia stuck around with "M" for so long. He had a possessive streak running through him where she was his, and only his, but his attitude towards her said otherwise. If you want somebody so badly that the sight of them with another person aggravates you then don't treat them like something you've just stepped in. "M" is very mercurial and he knows it but I think that's what attracts Olivia to him. You know there's a problem when an older pimp seems like a better choice than the male antagonist himself.What on earth happened to Olivia's job at the coffee shop? It seemed at the beginning that she was working almost daily and then all of a sudden she has all of the time in the world to go chasing a dream. An illusion. A mirage.It was a page turner, but then it wasn't. At certain points the intrigue to know what will happen next takes over and then it goes to a bit of a stretch where you kind of know what is happening or it's been drawn out too much. I hate cliffhangers and this one definitely ends with one. I'm just glad the next book is out so there isn't a wait. I'm seriously hoping Olivia comes to her senses and gives "M" a very wide berth but I somehow doubt she will.
Also in the One Night Series series | View all