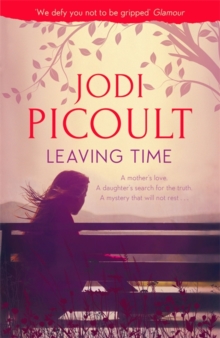 Description
Jenna Metcalf was with her mother the night she disappeared in tragic and mysterious circumstances, but she remembers nothing.Over ten years have passed, and still Jenna reads and rereads her mother's journals, hoping to find some clue hidden there, in the meticulous recording of her scientific research with elephants.
Desperate for answers, Jenna uses all her savings to recruit the aid of a private detective - and a psychic.Jenna knows her mother loved her.
She knows she would not leave her. And she will not rest until she finds out what happened that night.
In her most gripping mystery since House Rules, Jodi Picoult brings us a powerful story of a young girl's determination to uncover the truth, however shocking and life-changing it might be.
Information
Format: Hardback
Pages: 416 pages, None
Publisher: Hodder & Stoughton General Division
Publication Date: 04/11/2014
ISBN: 9781444778144
Other Formats
Paperback from £7.85
EPUB from £4.99
Free Home Delivery
on all orders
Pick up orders
from local bookshops
Reviews
Showing 1 - 2 of 2 reviews.
Review by tina1969
16/06/2015
I always loved books by Jodi Picoult, with her style of asking the reader what they would have done. The final part of her books had the court case which was always a page turner for me. For a while I haven't read any by JP so when I read Leaving Time I couldn't believe how different it is from her earlier books.This book is told from the point of view of Jenna Metcalf who is looking for her mom Alice, Virgil a retired detective who was on the original case and Serenity a disgraced physic. At first I thought the book was ok but I did feel really bogged down with tne voice of Alice and with her research on elephants. I like elephants the same as the next person but did find these first sections tedious, although I can see that a lot of time and research has gone into it by JP. I have to admit to skilping parts.The story for me picked up in part too, as up to this point I was going to give up. There was that final push at the end and the twist to make the story worthwhile.For me I liked the book in parts, some of it I found too much and much prefer JP older books.
Review by nicx27
16/06/2015
I was really looking forward to reading this book. The story sounded fab but also the addition of the elephants really sold it to me. Right from the beginning I was completely into it and loved every bit of it. Jenna Metcalf is looking for her mother, Alice, who disappeared 10 years ago when Jenna was 3. Alice was an elephant behaviour expert and one night, following a trampling at the sanctuary where she worked, she disappeared, never to be seen again. Enlisting the help of Serenity Jones, a once successful but now failed psychic and Virgil Stanhope, the detective who investigated the incident at the sanctuary, she tries to find out what happened to her mother.Jenna is a great character. Maybe a bit old for her years but it worked and I loved how the story was told from the different viewpoints. I couldn't put it down and as the story unfolded I was left wondering how it would all end until the most amazing twist occurred. Writing a twist like that successfully is no mean feat. I also really liked all the information about elephants and their behaviour - fascinating stuff! I loved loved loved this book.