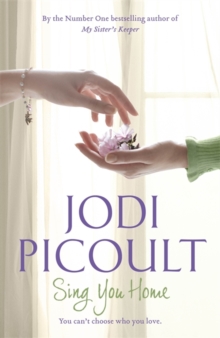 Description
Zoe Baxter has spent ten years trying to get pregnant, and just when she's about to get her heart's desire, tragedy destroys her world.
In the aftermath of loss and divorce, she throws herself into her career as a music therapist.
Working with Vanessa, she finds their relationship moving from business, to friendship, and then - to Zoe's surprise - blossoming into love.
When Zoe allows herself to start thinking of children again, she remembers that there are still frozen embryos that she and her husband never used.But Max, having sought peace at the bottom of a bottle, has found redemption in an evangelical church, and Zoe needs his permission to take his unborn child . . .SING YOU HOME is accompanied by a soundtrack of original songs created for the novel by Jodi Picoult and Ellen Wilber.
Information
Format: Hardback
Pages: 448 pages
Publisher: Hodder & Stoughton General Division
Publication Date: 01/04/2011
ISBN: 9781444724530
Other Formats
Paperback from £7.85
EPUB from £5.99
CD-Audio from £15.85
Free Home Delivery
on all orders
Pick up orders
from local bookshops
Reviews
Showing 1 - 2 of 2 reviews.
Review by writestuff
16/06/2015
Zoe Baxter wants nothing more in the world than to become a mother. She and her husband of nine years, Max, have been battling infertility for years and have turned to IVF in order to conceive a child. Finally, Zoe believes the child they have always wanted will be born – but, disaster strikes again. In the midst of grief, Max walks out and files for divorce, leaving Zoe depressed and alone. Zoe turns to her music for comfort. As a music therapist she understands the healing power of song. She also allows herself to let a friend inside her personal grief. Vanessa, a guidance counselor at the local high school, is not only there as a shoulder to cry on, but she makes Zoe's life worth living again…and she introduces Zoe to a depressed, suicidal teenager named Lucy who needs music too. Gradually, Zoe and Vanessa fall in love and things get a whole lot more complicated. When Vanessa suggests they use the three frozen embryos from Zoe and Max's last IVF to try to have a baby together, Zoe is ecstatic – she only needs Max's permission. But, Max has turned to an evangelical Christian religion to soothe his grief…and the thought of allowing two lesbians to raise his children is horrifying.Plucked from the headlines, Sing You Home is about the definition of family and marriage, and the rigid religious prohibitions against same sex unions. In signature Jodi Picoult style, the novel unfolds as a multi-perspective look at what it means to be gay in today's world. Picoult takes a hard look at not only same sex unions, but at parenting, pro-choice, whether or not embryos are "pre-children" or property, nature vs. nurture, and the imposed morality of the Christian right.There is a lot to be discussed and digested in Sing You Home. Although Picoult's novel leans more to debunking the myths surround homosexuality, she attempts to balance the arguments on both sides by writing from multiple points of view. The reader is able to see the issues from the perspective of three characters: Zoe, Vanessa and Max. Max's struggle to deal with his alcoholism and grief makes him susceptible to the religious fervor of evangelical dogma. Although he believes he is following the correct moral path, he begins to question many of the core beliefs of the church when the issues are personalized for him. His internal conflicts position him between the far right and the liberal left on the issues – a place that becomes more and more difficult for him as he is forced to choose sides.I enjoy Picoult's books – they are always "current," taking contemporary social issues and weaving a story which is complex and engaging. Critics of Picoult often characterize her novels as having an "agenda," and while there may be some truth to this, I see her work more as a place where thinking individuals can dissect an issue. Sing You Home would make an excellent Book Club choice.Sing You Home comes with a CD of original songs written and sung by musician Ellen Wilber, and representing Zoe's voice. Music therapy as a way to heal and touch people emotionally was an interesting aspect of the book.Readers who have read and enjoyed previous Picoult novels will find Sing You Home a good representation of Picoult's work. Conversational in style and covering a lot of controversial ground, the book is a good read which I can recommend.
Review by DubaiReader
16/06/2015
Nothing good in this book.To begin, I should state that I have read and enjoyed many of Jodi Picoult's books, though they do become rather formulaic if you read too many of them. I always find that I learn something as a result of my reading.On this occasion I made the mistake of reading a book by an author I enjoy and respect, without first studying the content of the book. I avoid books with same sex love scenes, not because I don't have sympathy for these people but because I really don't want to read about what goes on behind closed doors. Similarly, I never choose fiction with a heavily evangelical theme. I was listening to the audio version from Audible, so I didn't have a back cover to check out before reading, having ordered the book simply because it was by Ms Picoult. And as if this wasn't enough, the audio version has some truly chronic singing throughout the book - I had to keep fast forwarding this because I simply could not listen to it. In addition, both the male and female narrators gave little differentiation between their characters and I was often unsure who was speaking (unusual for an Audible book).So, why did I finish this book? Well, it has been highly rated by several reviewers whose taste I generally share and because it was in audio version and I can never get enough audio books. Ironically, the last time I looked at Audible's site I discovered that I could have returned the book for something else but I was nearly at the end by then.Max and Zoe are a happily married couple but they seem to be unable to conceive. They undergo several expensive cycles of fertility treatment but in spite of two miscarriages and a stillbirth, they remain childless. When the marriage breaks under the strain, Zoe finds happiness in a same-sex marriage (is this possible - to suddenly go from a heterosexual marriage to a lesbian without knowing that you have this tendancy? No halfway house of being bisexual??) The inevitable Picoult court case revolves around the fate of three eggs frozen since the last round of fertility treatment and which now, both Zoe and Max wish to use. I may be legally naiive, but I kept thinking the eggs should be given, one to each, with a spare for back-up.The ending was a bit of a cop-out, though I can't say why without spoilers. The final chapter also created as many questions as it answered.All in all a very unsatisfying read. I shall study the content of audiobooks more thoroughly before buying in future.My previous reads and ratings:House Rules 4*Handle With Care 3*Vanishing Acts 4*My Sister's Keeper 5*The Tenth Circle 5*Keeping Faith 5*Mercy 4*Harvesting the Heart 4*Change of Heart 5*