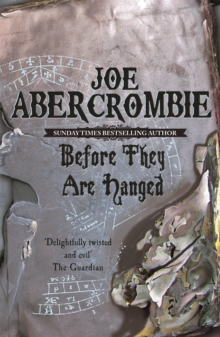 Before They Are Hanged : The First Law: Book Two
Paperback
Part of the First Law series
Description
Bitter and merciless war is coming to the frozen north.
It's bloody and dangerous and the Union army, split by politics and hamstrung by incompetence, is utterly unprepared for the slaughter that's coming.
Lacking experience, training, and in some cases even weapons the army is scarcely equipped to repel Bethod's scouts, let alone the cream of his forces.In the heat-ravaged south the Gurkish are massing to assault the city of Dagoska, defended by Inquisitor Glokta.
The city is braced for the inevitable defeat and massacre to come, preparations are made to make the Gurkish pay for every inch of land ... but a plot is festering to hand the city to its beseigers without a fight, and the previous Inquisitor of Dagoska vanished without trace.
Threatened from within and without the city, Glokta needs answers, and he needs them soon.And to the east a small band of malefactors travel to the edge of the world to reclaim a device from history - a Seed, hidden for generations - with tremendous destructive potential.
A device which could put a end to war, to the army of Eaters in the South, to the invasion of Shanka from the North - but only if it can be found, and only if its power can be controlled ...
Information
Format: Paperback
Pages: 592 pages
Publisher: Orion Publishing Co
Publication Date: 13/03/2008
Category: Fantasy
ISBN: 9780575082014
Other Formats
EPUB from £6.99
Hardback from £11.79
Free Home Delivery
on all orders
Pick up orders
from local bookshops
Reviews
Showing 1 - 3 of 3 reviews.
Review by furriebarry
16/06/2015
Notable improvement on the average first book. Characterisation moves away from the omnipresent author's voice. The plot moves beyond constant set ups. Still suffers from heavy handedness in places but if the third book continues this rate of improvement then it will be something special. Good fantasy fare.
Review by Me-chan
16/06/2015
Better then the first one, and that one was really good :)
Review by Nickidemus
16/06/2015
The Basics

When last we left our heroes, Bayaz was organizing an expedition to the Old Empire to find a magical MacGuffin, and Ferro, Logen, and Jezal are his chosen band to help him in his quest. Meanwhile, Glokta has been shipped off to Dagoska with a Gurkish army standing right outside the city gates.

My Thoughts

Favorite in the series. Absolute favorite. That doesn't even require thought for me to say; it's that thoughtlessly good. It's exciting and adventurous. It's funny. It's chocked full of surprising character interaction. Glokta gets to be a magnificent bastard all over Dagoska. The First Law Trilogy had me with the characters in the first novel, and suddenly the story ramps up here and gets more, better, bigger, faster.

I made this statement already with my review of the first book, but it bears repeating in a big way. Abercrombie is big on subverting fantasy tropes. Characters don't do what they'd do in their designated fantasy roles. They break molds. That doesn't just extend to characters either. If this were Tolkien, these characters would face adversity and then ultimately succeed, but Abercrombie isn't interested in regurgitating what we've already read, and on the sliding scale of optimism versus cynicism, he is a major cynic. He takes such an enormous chance at the end of this book, it was like watching someone walk off the edge of a cliff with a grin on their face. And it worked. Beautifully. I think I remember feeling utterly shocked and then busting out with hysterical laughter. It's that kind of book.

This is the Empire Strikes Back of The First Law Trilogy. The book that might annoy some, but others with more mature tastes will enjoy for the leaps of faith and the journey itself. Abercrombie proves that it's not about reaching a conclusion, that rushing to get there is pointless. I'll get a little more into that with my review of the third book, because it illustrates that concept even better in my opinion.

I've said in other reviews, particularly of fantasy series that have hooked me, that I don't hook easily. I am a slippery fish when it comes to committing to a series, and he had me from the first book. So much so that I read this one only a couple weeks later, because I couldn't stand being away from this world. I am not that kind of reader. I've been known to wait years between books in a series. I'm trying to impart how addictive this series is, how you will not be able to turn back when you begin. It's well worth your time.

Final Rating

5/5