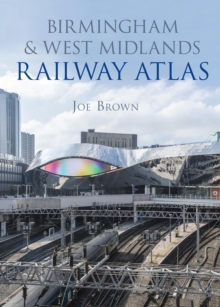 Birmingham and West Midlands Railway Atlas
Hardback
Description
Following the huge success of his authoritative railway atlas of London, Joe Brown has turned his attention to the railway network in and around Birmingham and the West Midlands.
Lying in the heart of England, Birmingham is an important railway centre.
Historically, Birmingham was the focus of Britain's first trunk railway from London to the North, which became the London & North Western Railway, and the Midland and Great Western Railways also soon extended their networks to Birmingham, leading to the construction of two impressive stations - New Street and Snow Hill.
Although some lines and stations have disappeared, the bulk of the network continues to play a pivotal role in the life of the city and Britain as a whole.
This new atlas provides a comprehensive study of the railways of the West Midlands.
The area covered extends to Nuneaton, Coventry, Redditch, Wolverhampton, Lichfield, Tamworth, Leamington and Stratford, with additional large scale and evolutionary maps of areas of particular interest.
The detailed mapping shows individual track and platforms for all the lines, open and closed, as well as stations, changes of station name and opening and closing dates. The lines are colour coded by pre-Grouping company, with closed lines shown as thinner dashed lines.