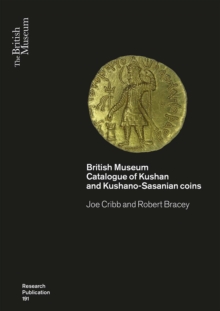 Kushan Coins : A Catalogue Based on the Kushan, Kushano-Sasanian and Kidarite Hun Coins in The British Museum, 1St 5Th Centuries AD
Paperback / softback
Description
The coinage of the Kushan kings (1st to 4th centuries) and of their immediate successors the Sasanian Kushanshahs (3rd 4th centuries) and the Kidarite Hun Kushanshahs (4th 5th centuries) are a key component of our understanding of the history of ancient Afghanistan, Pakistan, northern India, Tajikistan and Uzbekistan during the early centuries AD.
Modern knowledge of each of these kingdoms began with the discovery of their coins.
Research continues to reveal new aspects of the political structure of these states, their geographical extent, the religious affinities of their rulers and the development of scripts and languages in the region. This landmark publication will give a comprehensive account of Kushan, Kushano-Sasanian and Kidarite Hun coinages, as well as put them into a wider historical and cultural context.
Information
Format: Paperback / softback
Pages: 410 pages
Publisher: British Museum Press
Publication Date: 01/12/2019
Category: Illustration
ISBN: 9780861591916
Also by Joe Cribb