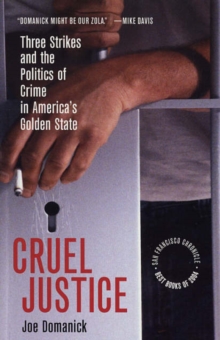 Cruel Justice : Three Strikes and the Politics of Crime in America's Golden State
Paperback
Description
When the people of California overwhelmingly voted for the 1994 'three strikes' law, many had no idea what they were approving.
The official ballot argument in favor of what "Newsweek" called 'the toughest law in the nation' kept it simple: 'Three strikes keeps career criminals who rape women, molest children and commit murder behind bars where they belong'.
What few people realized, however, was that the sweeping nature of the law would put thousands of nonviolent men and women in prison for twenty-five years to life, for crimes as minor as shoplifting $2.69 worth of AA batteries, forging a check for $94.94, or attempting to buy a macadamia nut disguised as a $5 rock of cocaine.
In his riveting, well-documented book, Joe Domanick reveals the drama of the shattered lives involved with the law.
Focusing on personal stories, "Cruel Justice" expands to tell the larger tale of how the law came into existence; how it has played out; what political, social, and economic forces lie behind it; and how the politics of crime and fear work in America. Domanick demonstrates how laws passed in haste, without deliberation, and in reaction to public hysteria can have unforeseen consequences as tragic as those they were designed to thwart.
Domanick draws powerful portraits of the two innocent young girls - Kimber Reynolds and Polly Klaas - whose murders were the catalyst for the three strikes law; of the men who killed them; of the fathers who sought their revenge; and especially of the many people serving lengthy prison terms who are victims of the three strikes law itself.
Information
Format: Paperback
Pages: 343 pages, 10 b/w photographs
Publisher: University of California Press
Publication Date: 15/08/2005
Category: Penology & punishment
ISBN: 9780520246683
Free Home Delivery
on all orders
Pick up orders
from local bookshops