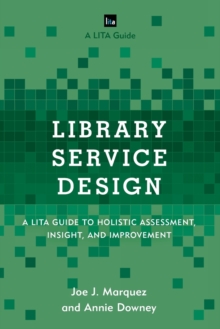 Library Service Design : A LITA Guide to Holistic Assessment, Insight, and Improvement
Paperback / softback
Description
Service design is a holistic, co-creative, and user-centered approach to understanding user behavior for creating or refining services.
Use this LITA Guide to help as a toolkit for implementing service design studies and projects at all types of libraries.
It begins with directions for how to create a service design team and assembling a user working group for your library and move through the various phases in a service design journey.
The authors outline the tools required to gain insights into user behavior and expectation and how to diagnose the difference between a symptom and a problem users face when interacting within the library environment.
The guide features a series of examples that the service design team can use to learn how to work with library staff and patrons to find out what current user experience is like and how to refine services to better meet user expectations. Learn how to:*create service blueprints - to outline the service delivery model and understand pain points and places where services can be refined*create customer journey maps - to better understand the actual paths taken by users to fulfill a service. *find the right tool for the situation so you can make an informed decision on usage*create an ethnographic program of your own tailored to your library environment*understand how assessment and post-implementation is key to any project's success *create a service design plan that fits your library and patronageThis book is a toolkit, not a step-by-step, paint-by-the-numbers book.
It is geared towards libraries of all types and sizes and will provide tools that any library can use and ideas for developing a service design project that fits within the means of your library so that your project will be meaningful, useful, and sustainable.
While several books have been written on how to implement service design, this book will be the first to explain how to practice service design in libraries.
Information
Format:Paperback / softback
Pages:156 pages
Publisher:Rowman & Littlefield
Publication Date:23/06/2016
Category:
ISBN:9781442263840
Other Formats
Hardback from £56.69
EPUB from £96.30
Also in the LITA Guides series | View all